Was the Secret Transfer of $4 Billion to Alameda, FTX's Undoing?
The liquidity crunch facing FTX might have emanated from Sam Bankman-Fried, the crypto exchange's CEO, secretly transferring at least $4 billion to boost Alameda, with part of the funds being customer deposits, according to Reuters.
Per the report:
"Seeking to prop up Alameda, which held almost $15 billion in assets, Bankman-Fried transferred at least $4 billion in FTX funds, secured by assets including FTT and shares in trading platform Robinhood Markets Inc. Bankman-Fried did not tell other FTX executives about the move to prop up Alameda."
Lucas Nuzzi, the head of research & development at CoinMetrics, shared similar sentiments and stated:
"I found evidence that FTX might have provided a massive bailout for Alameda in Q2 which now came back to haunt them. 40 days ago, 173 million FTT tokens worth over 4B USD became active on-chain. A rabbit hole appeared."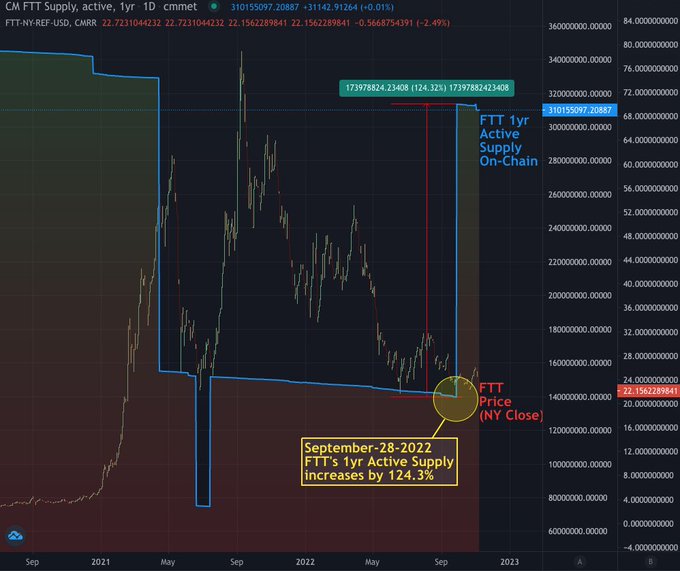 Source: LucasNuzzi
FTX's downfall was also prompted by Bankman-Fried's decision to save struggling crypto firms as the bear market continued to bite. The report noted:
"Some of those deals involving Bankman-Fried's trading firm, Alameda Research, led to a series of losses that eventually became his undoing."
Part of the losses that Alameda Research endured entailed a $500 million loan agreement with collapsed crypto lender Voyager Digital.
FTX's future is in jeopardy after Binance halted acquisition plans, citing misappropriation of customer funds, Blockchain.News reported.
Binance disclosed that this decision was reached based on corporate due diligence and reports of alleged U.S. agency investigations and mishandled client funds.
Based on a shortfall of up to $8 billion, Bankman-Fried acknowledged that FTX needed $4 billion to remain solvent to avoid bankruptcy.
The rain started beating FTX after experiencing a "giant withdrawal surge" of $6 billion in cryptocurrencies in just 72 hours. The crypto exchange was accustomed to daily withdrawals that amounted to tens of millions of dollars.
Image source: Shutterstock