Why did EOS suddenly jump 33%, more than any other cryptocurrency?
What prompted EOS to outperform the market yesterday? It's relative valuation against Bitcoin may hold the key. 
After a brutal month of declines and blast after blast of adverse news, EOS rallied above the rate of a recovering market yesterday. At points, it recorded a 33% uplift over 24hrs (between 4am December 17th and 4am this morning, GMT), and briefly broke above $2.60 valuation for the first time in two weeks according to CryptoCompare.
Having dipped back as low as $2.40 in recent hours, it currently sits at the $2.50 mark – a 15% rise on its price 24hrs previously.
Around 44% of the trade in EOS since in the last 24hrs has been in pairs with Tether (USDT), with BTC accounting for another 24% of the pairings share. The largest portion of that USDT business is done via OKEx, which began offering margin trading – albeit limited to 3x leverage – on EOS back in September. It accounts for about 35% of the EOS/USDT pair volume; more than twice the amount of the other largest markets for that combination, Huobi Pro and Binance, which both hold 14% of the volume each.

.
Here we can see EOS' performance on OKEx for the last 24hrs – where it didn't quite hit the highs reflected in the CryptoCompare Index, which takes its prices from across a wide range of pairs and markets to create a weighted snapshot for the coin.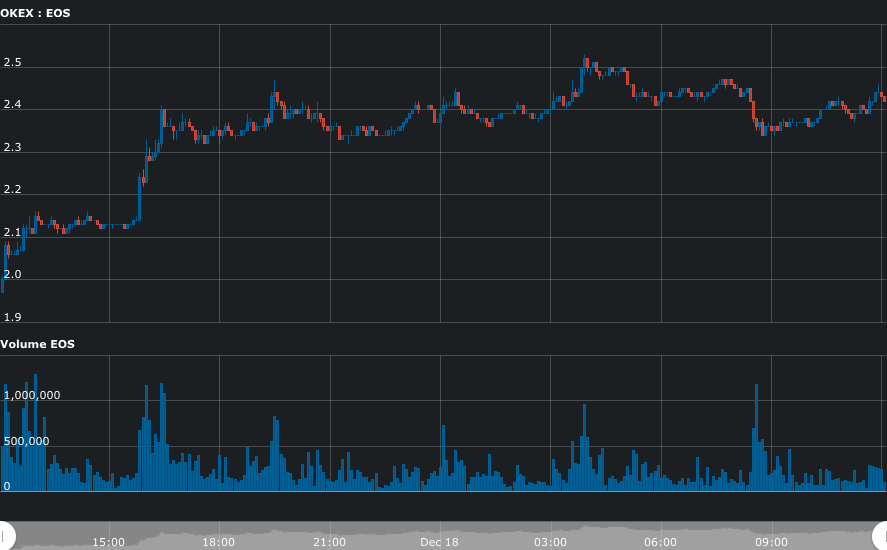 While that pair reflects the renewed interest in buying EOS, the search for what perhaps drove the above market move yesterday is a little more involved. Bereft of any big news story driving the recovery, it pays to take a longer term view of EOS.
For example, the chart below – which shows the weekly price movements of the EOS against BTC on Bitfinex over the last year – shows that EOS was sitting on or below a price point that has been notable as something of a launchpad in that time.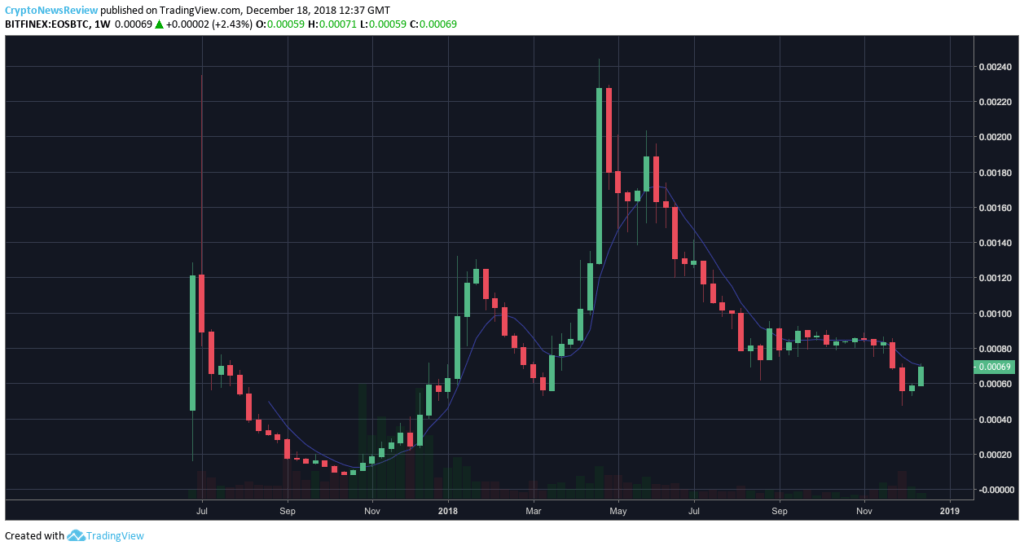 Looking at it here, it is clear that EOS has now fully retraced its later-than-the-rest-of-the-altcoins spike from late-spring, and returned to the relative valuation it had against bitcoin back in early-to-mid March. Before that, the same relative pricing (just south of 0.00060BTC) served as a consolidation point before a spike in the first few weeks of the year.
Since that big high of late April – save for a boost that came with the launch of the EOS mainnet in June – it's been a pretty steady decline from a valuation against BTC that was briefly equivalent to $21+ per token (with Bitcoin priced at above $9,000 at the time). This relationship reflects the initial optimism for EOS as a decentralised App platform, and the subsequent erosion of relative value the disappointment of the poor uptake figures reported by both it and competitors like Ethereum.
However, at least for now, it appears that the 0.0006BTC floor of relative valuation against Bitcoin is a good long-term indicator of how traders view EOS' worth – making that point of support one to watch closely going forward. Yesterday's performance certainly hints that, even in a bearish market, EOS starts to look undervalued to buyers below that point – and brings new buy-side interest into play.
While the price of EOS against the US dollar appears to show little sign of breaking out of its bearish trend (ditto for Bitcoin, of course) in the short- or  mid-term, perhaps worse news for the somewhat beleaguered dApp platform would be a break below its relative long-term price support against the headline cryptocurrency that we've seen here.
That would, you'd suspect, indicate that traders and supporters really are losing confidence in the valuation of EOS going forward.