Why are people worried that cryptocurrency has gone quieter?
The price of cryptocurrencies has enjoyed a prolonged period of relative stability. Why is that being seen as bad news?
After a period of around a year where cryptocurrency prices could safely be described as varying dramatically, the price of most major coins is currently enjoying its best period of stability. But in some places, that in itself is being cited as a cause for concern.
At the start of September, the value of Bitcoins tumbled below a value of $7,000 apiece. It'd been at that level before this year, but at the start of that month, the value of one Bitcoin tumbled by over $1000 in just a couple of day. Since then, the price of Bitcoin has stayed below $7000 but above $6000. In fact, for the most part of that time period, its value has sat in a bracket between $6300 and $6600. Trading volumes too have fallen, save for the odd spike. And whilst there was a brief moment in October when it looked like the price may be set for a quick, nasty fall, the market quickly corrected itself. Some degree of normality resumed.
Just take a look…
Not just that, but the market also seemed more inoculated than ever before against external announcements. Tumbles in the past have followed regulatory announcements, for instance, or major hacks on exchanges. And whilst all eyes are on this week's Bitcoin Cash fork, the prolonged period of stability has seen the overall crypto marketplace settle.
It's not just Bitcoin, either. Ethereum's price has been more volatile, and trading volumes more dramatic. But again, the lines of the chart are moving more modestly, when put against the context of 12 months ago…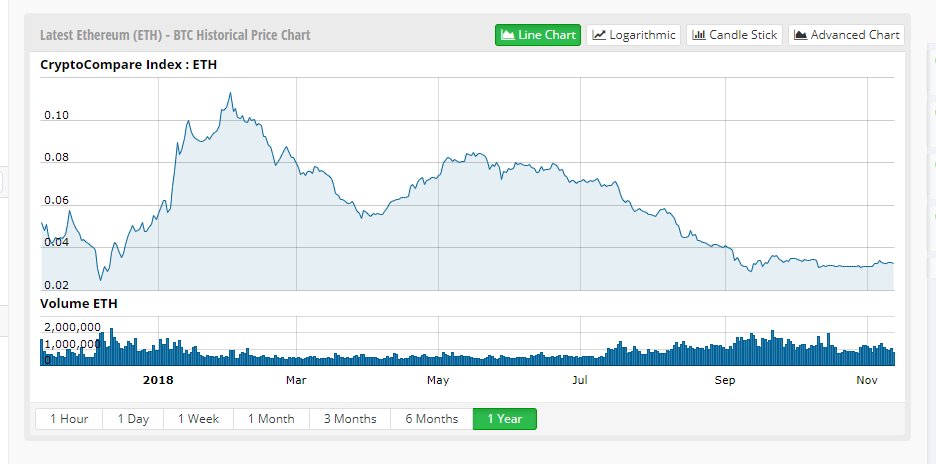 In lieu of major price moves, though, people seem to be willing them instead. Predictions remain rife that Bitcoin's price is going to hit five, perhaps even six figures in the year ahead. That Ethereum and/or Ripple will soar. That perhaps the cryptocurrency market will collapse altogether. But primarily, day after day, the story is far more settled than that.
A question to ponder, then: isn't this just what the cryptocurrency market needs?
Continual questions have been asked whether institutional investors will be taking a bigger interest in the market. Or if there's going to be a major national government properly adopting and supporting crypto (and not in quite the same way that Venezuela and the Petro has developed as a story). Yet all the while that the market is steady, and proving itself to be quite robust, confidence edges upwards. A week or two back, the Canadian exchange MapleChange was hacked, with some alleging that its owners had executed an exit scam. In the field of cryptocurrency exchanges, MapleChange is very small. But conversely, the field of crypto has responded to what at heart are quite small news announcements in the past with far more volatility. This time, the markets barely fluttered. Over the past year, they've batted away far more dramatic stories than that one.
Perhaps, then, this is a positive few months, that demonstrate the maturity in more than one sense of the market. That start to prove that cryptocurrency can actually cope in a crisis, rather than run around panicked, with line graphs charting prices going off in ever more erratic directions. That should a dramatic challenge come to the fiat status quo, digital currencies have sounder foundations that some of their reporting may suggest.
All of this is set against a backdrop of, in the case of Bitcoin, a price drop of some 70% over the course of the last eleven months. But maybe that was an inevitable, natural course correction. And that now cryptocurrency has found more natural levels, confidence in the market can be allowed to grow, and trust can be built.
Granted, at the end of the week, this may all go out of the window, as bulls or bears – depending which theory you subscribe to – feast once again on digital currencies. But given the relative infancy of cryptocurrency, and the cloud of stories that have hung over it this past year – few of them upbeat – perhaps it's time to live by that mantra that no news, in this case, is really quite good news…
Main image: BigStock