UPDATED: Bitcoin price moves back above $4,000
Early morning trading (GMT) pushed Bitcoin back above the $4,000 mark again, while the early afternoon has seen it rise further. UPDATED at 1.35pm, 28.11.18: A little over two weeks since the price of bitcoin broke below yearly support at the $6,000 mark – briefly dipping as low as $3,550 a few days back – markets appear to be making another concerted effort to push its price above the $4,000 mark again. Until today, it was last above that watermark on Sunday evening (UK, GMT) but could not maintain that price, slipping back into the high $3,000 levels. At present, however, it appears to be retaining buy-side interest – and has seen a further lift in that has pushed it to its current price of $4,185.
Thus, on the back of some positive noises coming from Nasdaq, VanEck and Bakkt – among other attendees at the ongoing Consensus: Invest conference in New York yesterday – sentiment behind the embattled headline cryptocurrency appears to be taking a more positive turn. For the moment, at least.
According to prices compiled by CryptoCompare for its index, Bitcoin made it's move in the early hours of this morning, with a sharp $200 uplift after steady overnight gains that saw its price pull up over, and then bounce along on top of its SMA50 price – in this case showing the average price over the previous 50 candles of a five-minute chart, shown by the yellow line in the chart below, before making its concerted move.
After a seven-hour stretch of trading pretty flat, that SMA50 line then appears to have been something of a springboard for another $150 lift as US traders began to get online.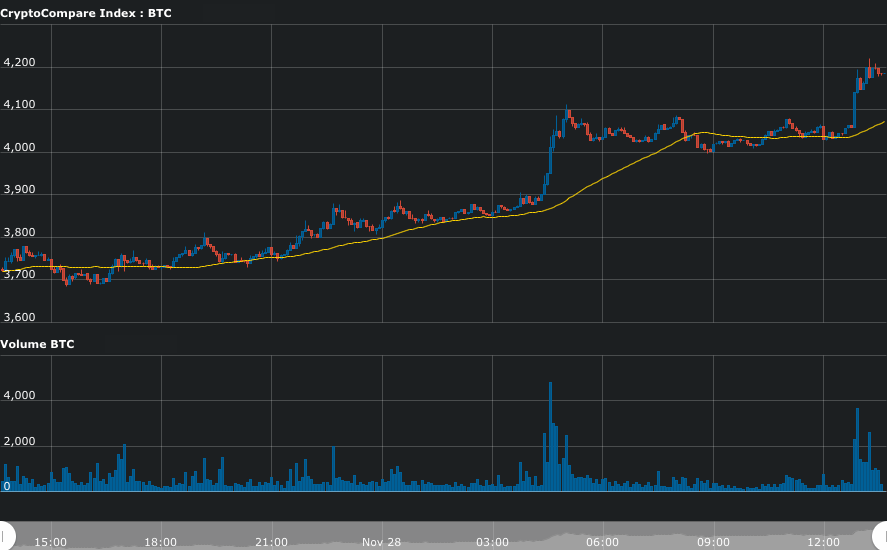 These positive lifts contrast against a recent period where that SMA50 line has proved consistent resistance – with the last half a day showing the biggest positive gap between the two in the longer hourly timeframe for some time.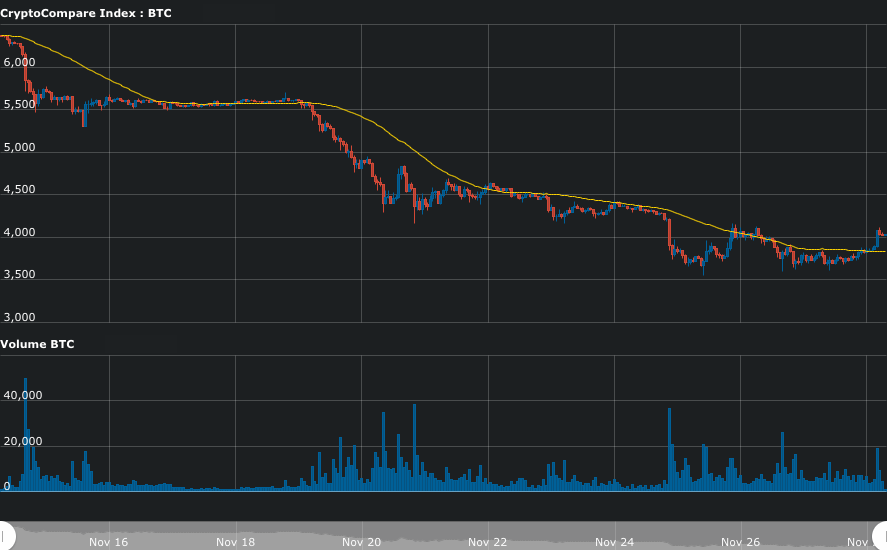 Let it be noted, however, this is still a long way from anything like a recovery signal.
The price of Bitcoin is still sitting $2,000+ below its 200-day Moving Average – a state of affairs widely seen as indicative of a bear market. As this chart logging the price of BTC on the Kraken exchange shows, that gap is a large as it's been since mid-July, and shows little sign of being erased soon.

If anything – and we wouldn't dare attempt to predict the market in the state it's been lately, or ever, really – this can be seen as indicative that those predicting more perils for the price of Bitcoin may be right. A 10% gain over 24hrs, with the way things have been going of late, cannot be sniffed at however.
The post UPDATED: Bitcoin price moves back above $4,000 appeared first on CryptoNewsReview.