Tether statement on USDT price instability fails to calm chatter over its future
Troubled stablecoin speaks for first time after value plummeted yesterday, but critics are far from convinced. 
The team behind Tether (USDT) has released a statement regarding its recent problems, in the hope of quelling the rumour and innuendo surrounding its financial situation and stave of the kind of 'run' on its dollar-pegged currency that saw its value sink below $0.93 at points yesterday.
In the early hours of Monday morning, for example, you could have paid $1,000 more to buy a Bitcoin on with Tether than with US dollars, as this chart from our colleagues at CryptoGlobe shows.
That dive in the value of USDT appears to have begun when Kucoin suspended withdrawals of the pegged crypto, leading users to panic that they may soon be left holding worthless tokens. It comes after continued speculation regarding Tether and the BitFinex exchange, over problems with their banking arrangements, and continued doubts over whether USDT is backed in the manner customers would hope it is.
Though not released to the public – the Tether.io twitter account has been inactive for nearly a month, and the company hasn't blogged since August – reports say the statement included comment from the cryptocurrency's chief compliance officer Leonardo Real.
The former Bank of Canada Anti-money laundering lead has been quoted as saying:
"We would like to reiterate that although markets have shown temporary fluctuations in price, all USDT in circulation are sufficiently backed by U.S. dollars (USD) and that assets have always exceeded liabilities. In June 2018, a report from Freeh Sporkin & Sullivan, LLP (FSS), based on a random date balance inspection and a full review of relevant documentation of bank accounts, confirmed that all Tethers in circulation as of that date were indeed fully backed by USD reserves."
However, give the intense scrutiny that Tether's been experiencing in recent days, it's unsurprising that the statement – in a similar vein to the report it cites – failed to please many observers who quickly began to pick it apart.
Tether has, unless they have the most incompetent representatives in the financial industry, just confirmed that they do not have USD backing all outstanding tokens.

(This has long been suspected to be true at least some of time; @Bitfinexed was on the case about a year ago.) https://t.co/dfX42akuQI

— Patrick McKenzie (@patio11) October 16, 2018
This language doesn't actually say that the assets are 100% dollar-backed. It simply says "sufficiently backed" and "assets exceed liabilities." Leaving open the possibility that part of the "assets" backing USDT are marked-to-market, illiquid crypto holdings. https://t.co/sBgkwqRBrG

— Preston Byrne (@prestonjbyrne) October 16, 2018
You missed the double meaning here. Sufficiently backed isn't dollar-for-dollar backed, and it also leads me to believe they hold some cryptocurrency assets rather than dollars for backing.

— ?Auditcarlo? (@CasPiancey) October 16, 2018
As was the case when Tether attempted to allay gossip regarding its claim to be backed 1:1 by dollar deposit, back in June, the language and rationale it's using appear less than convincing to anyone with an eye for these things. The central issue has always been its seeming reluctance to submit to a rigorous full audit. For example, that report from Freeh Sporkin & Sullivan, LLP was based on a 'snapshot' of the currency's finances on one day chosen by the law firm providing the statement – and therefore could not really be said to represent proof of the ongoing stability and worth of Tether.
Were it to be proved that Tether was not backed 1:1, it would amount to billions of essentially borrowed money being spent of exchanges every day – essentially falsely inflating the value of bitcoin. That would be doubly the case if, as some assert, USDT was being used by BitFinex and other exchanges in trading on their own platforms to provide liquidity and support the price of cryptocurrencies. That's a charge levelled at, and admitted by, several participants in a recent New York Attorney General's report on virtual exchanges.
The coin currently dominates the growing stablecoin space, accounting for something like 92% of the sector's $3bn market cap. It is regularly the second most traded cryptocurrency by volume, due to its use on exchanges that cannot or do not handle fiat transactions in US dollars.
While its current problems are worrying, and its influence on cryptocurrency huge, Tether has been in similar situations before. It suffered a similar drop in value when it and psuedo-partner BitFinex lost their banking last year, after Wells Fargo refused to handle monetary transfers from its their accounts. At that point, the USDT/USD Premium spiked to 8% – as this chart, created on October 4th by CryptoGlobe – shows.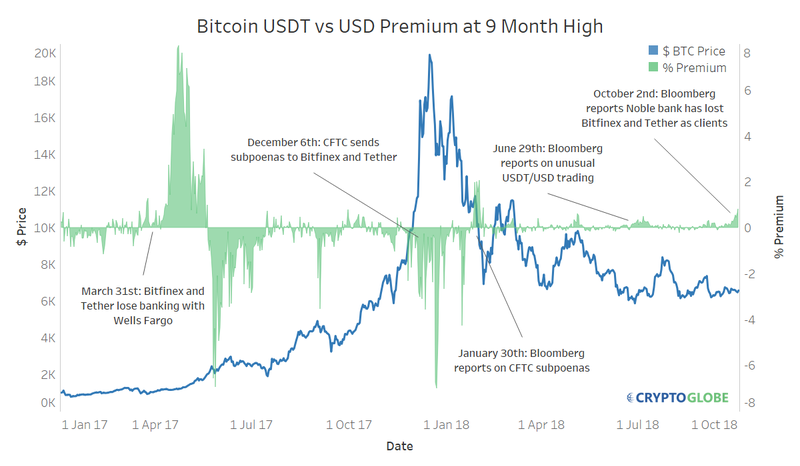 Yesterday saw the percentage Premium at over 10% at points, however, and the current problems – twinned with the release of a slew of alternatives to Tether – has led exchanges and consumers to begin to look elsewhere. For example, OKEx – the third biggest exchange in the cryptocurrency world – announced new pairs featuring four new alternatives.
IMAGE: Bigstock