Overnight falls sees muted Bitcoin price recovery falter
Overnight trading (UK GMT) has seen the price of Bitcoin fall back to around the $4,000-mark once more, with all but one of the Top 10 coins losing value over 24hrs.
A Bitcoin sell-off at around 2am this morning (UK GMT) saw a over $100 taken from the price of the crypto in a flurry of trading, pulling its price across a range of exchanges back down to the $4,000 level and extinguishing hopes of a concerted recovery.
With prices topping out at $4,228 at points yesterday evening (Sunday, December 2nd) the $4,000 mark represents a disappointing 5.5% drop-off in the last 12hrs, especially after Saturday trading had hinted at something of a recovery – pushing the price of the headline cryptocurrency towards the $4,300.
In line with the fate of Bitcoin, the vast majority of the other major cryptocurrencies have fallen too. Here is how the CryptoCompare index Top 10, based on 24hr trading volume, looked at 7.40am this morning.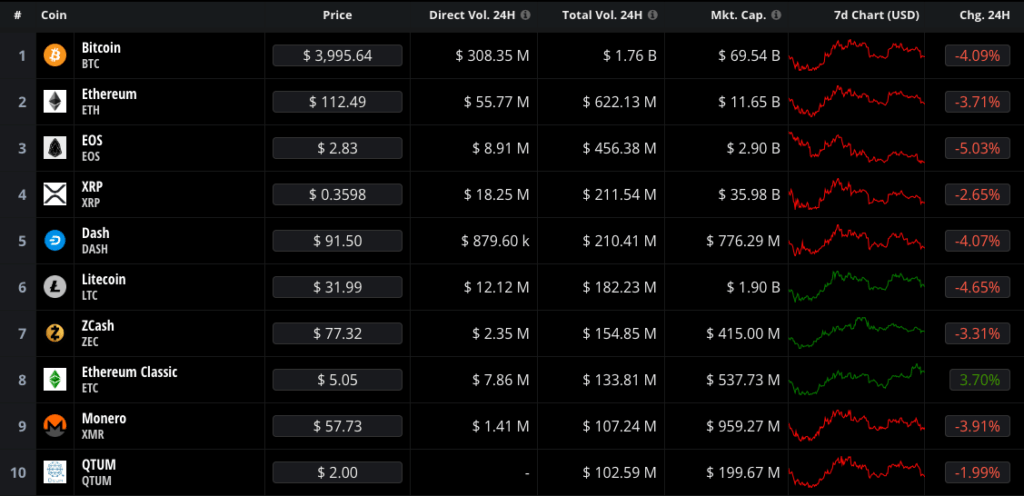 The only crypto to buck the similar declines is Ethereum Classic, which has shown something of an uplift in the last 24hrs following a suspected security breach – that turned out to be something of a misunderstanding. It's a price move that probably does more to prove the idiom that 'there's no such thing as bad publicity' as much as anything else.
There seems to be a mistake here – Igor had added an owner at their request which is correct and fine. That new owner seems to have reverted existing owners to members by some accident or misunderstanding. That user has said that they will revert the change today.

— darcy.reno (@darcydangerreno) 30 November 2018
Especially, as the argument – which appears to be ongoing – is nowhere near as settled as those Tweets would appear to imply, with the @ETCDEV Twitter account continuing to accuse the Digital Finance Group (DFG) – the major backer of the Coindesk news site, among many other crypto-related projects – of attempting something approaching a coup on the cryptocurrency.
EOS has seen the biggest falls in the last 24hrs, with a 5% drop off.