Ethereum trades have produced more volume in the last 24hrs than Bitcoin
Ethereum takes top spot for a change. 
According to CryptoCompare's Top 10 crypto chart, which takes its ranking from the volume of trade in any given coin over the previous 24hrs, Ethereum is currently the most-traded currency in the sector.
As Bitcoin still dominates in terms of market capitalisation – the value of the currency currently in circulation – it is extremely rare to see it bettered in terms of the amount of trading it sees in the daily timeframe, yet with Ethereum now topping the $150 price point again, and BTC dropping back to $3,800, it would seem that traders have turned to the premier altcoin in the short term.
According to the data site, over the last 24hrs Ethereum's Total Volume (which accounts for all pairings of the coin, across all the included exchanges multiplied by the price) has reached $114bn compared to Bitcoin's $1.10bn. Direct Volume – which tracks the coin only in pairs with the US dollar, still has Bitcoin well ahead, at $154 to $138m.
It comes on the back of a volatile two weeks for Ethereum, that have seen it as low as $100, but top out above $160 on two occasions – Christmas Eve and January 2nd. This morning, early trading (UK GMT) saw it get close to that mark again, but fail to break resistance once again. However, the uplift from the $145 mark over the last 24hrs has been enough to take volumes beyond that of the usual headliner.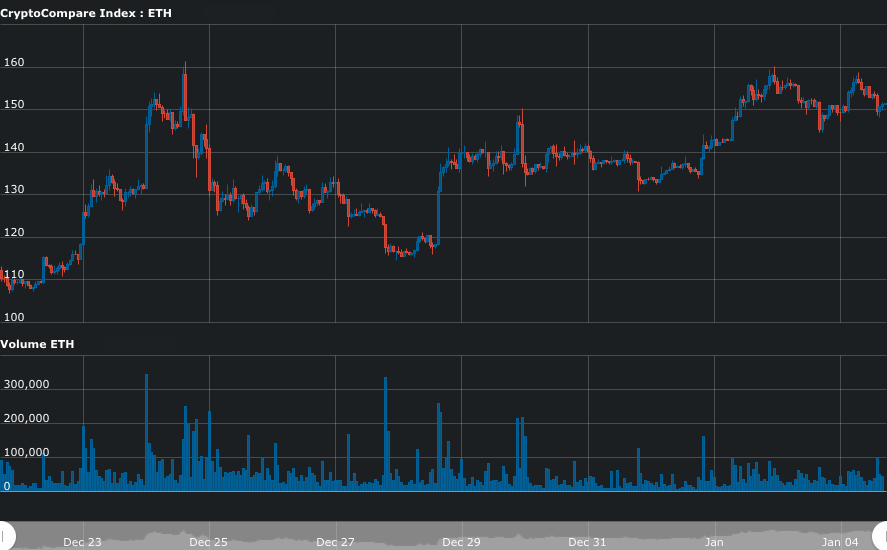 By contrast, Bitcoin has faltered over the same two-week period. Having been as high as $4,300 on the 24th, it has slipped back over recent days to around the $3,800, though appears to be in an ascending pattern of sorts – having been as low as $3,650 around the 28th. As the chart below shows, however, volumes have dried up over recent days as the price has become range-bound at a sub-$4,000 point.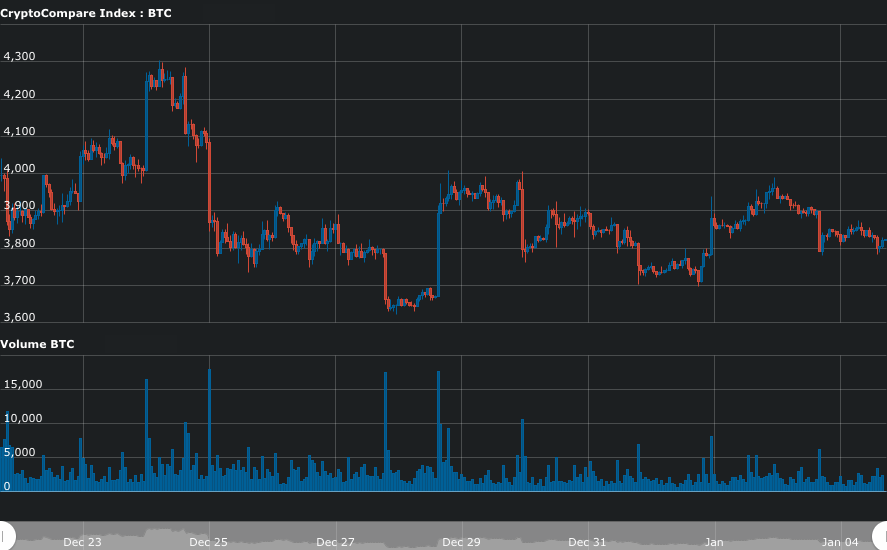 It is unlikely Ethereum can maintain interest ahead of that shown to Bitcoin for any significant amount of time. The tightening range within which its price is oscillating would appear to indicate that there will be a larger move of some sort for BTC soon, upon which volume on either the buy or sell side will flood back at a pace.
Still, so rare is the occurrence, it bore pointing out.