CryptoCompare data shows large gaps in relative stability of exchanges
New analysis by cryptocurrency data site CryptoCompare has highlighted what appears to be a large gap in market stability between various exchanges.
CryptoCompare's latest Exchange Review, for October 2018, offers a comprehensive overview of all the exchanges used to calculate its CryptoCompare Aggregate Pricing Index – an estimation of the price of cryptocurrency pairs traded across various exchanges. In amongst the wealth of information outlining the state of the various concerns it gets its data from, the site's researchers took something of a dive into the stability of various markets in an effort to quantify what level of effort and investment it would take to potentially manipulate the price of high-ranked crypto pairs on various exchanges.
To attempt this, it collected 10-minute snapshots of order books – obtained via site APIs – during first two weeks of October 2018. It then used this data to estimate how much, in dollars, it would take to move the price of the top five cryptocurrency pairs by 10% on any given exchange. This data was then used this to create a ratio that compared the value needed to the volume of trade across the pairs analysed, offering a metric showing the relative effort needed to move the price 10% downwards.
The results were very interesting.
The broad conclusion was that there is a vast difference between exchanges in terms of the amount of daily volume, and thus relative cost, that would be required to push the price up and down as desired by nefarious traders. ItBit, Kraken and Bitstamp, it says, "have relatively more stable markets" in comparison to LBank, CoinEx, ZB and Coinbene.
"These exchanges," the report concludes, "appear significantly less stable given their relatively low average order book depth values over the specified period of analysis."
For example, by the reports reckoning – despite the relatively large volumes of trading being reported by the site – a Coinbene trader would only need to sell around $33,000-worth of a crypto to move the price 10% downwards, so shallow is its order book. By contrast, Kraken – which reports similar volumes to Coinbene across its Top 5 pairs – has so many more orders waiting to be filled at various prices either side of the spot, it would require a trader or traders to relieve themselves of around $4.2m-worth of crypto to effect the same price action. That's a 130x larger investment.
This difference tallies into other stats in the report, which question the volumes reported by certain exchanges, which appear to rely on high numbers of relatively low value trades, and register low visitor numbers according to information site Alexa. This is a phenomenon that seems to especially relate to so-called Trans Fee Mining exchanges, like CoinBene and and CoinEx, which issue tokens as a reward for trading. For example, CoinEx registers something close to 180,000 trades a day across its markets, but with an average value below $250; HitBTC sees less that 10,000 trades in the same timeframe, but with an average value near to $3,000. The former hints, it would appear, at automated bot-based trading.
Binance, the top-ranked exchange by volume in the survey, sees close to 100,000 trades a day with an average value approaching $1,000 each.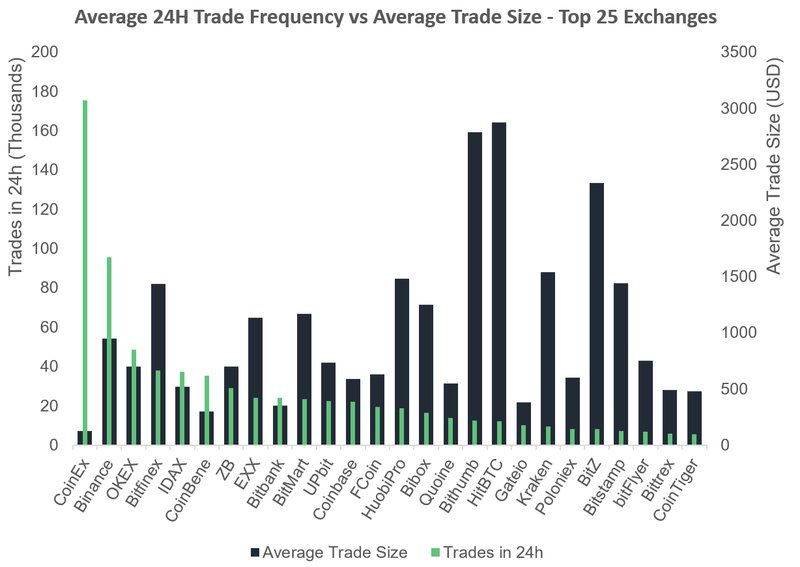 The report goes out of its way to point out the limitations of its efforts to chart market stability, pointing out that not all markets are equivalent and that the difference in the number of pairs offered by different exchanges can vary wildy. For example, Coinbase offers relatively few pairs, so the Top 5 approach gives a very strong overview of it; on the other hand, HitBTC offers hundreds of pairs, so the five chosen only show a sliver of its total business. However, CryptoCompare stands by its analysis as a "broad view of how an exchange behaves."
On the need for such analysis, as the cryptocurrency market strives for institutional investment and greater legitimacy among the incumbent financial giants, Charles Hayter, CEO of CryptoCompare, observed:
"Accurate, clean data is crucial for all retail and institutional investors looking to make digital asset investments. That's why our data aggregation methodology and standards are rigorous, to safeguard data integrity and ensure consistency and confidence in the market."