Crypto Top 10 (6th July, 2018): Top 10 suffers from low volumes, minor losses; Quarkchain spikes
Here's a look at the performance of the Top 10 cryptocurrencies – by 24h trading volume – on the CryptoCompare chart, as well as winners and losers across the board.
Updated at 9am (UK GMT+1) July 9th, 2018..
The Top 10, as of 6.15am (UK GMT+1) July 9th, 2018 looked like this…
Overview
In what was a calm, low-volume, summer-lull kind of weekend (yes, I know that doesn't make sense if you're in the Southern Hemisphere, but I'm trying to paint a picture here), Bitcoin (BTC) barely moved. Save for a $200 price lift that came almost exactly as Saturday became Sunday, at least according to British Summer Time, there was little else to report.
The new plateau that price rise created, just above the $6,700 mark, has held since then -save for giving back a small portion of that in the last few hours. Over 24hrs, that retreat adds up to a 0.59% price loss – but if you've not looked at the market since Friday evening, things look significantly more rosy than that.
With trading volumes so low, it's probably not surprising that Bitcoin's price is moving around in such a jerky manner, as has been its way in recent weeks. Sunday's trading volume saw less than 40,000BTC change hands, by Cryptocompare's reckoning, for only the second day of 2018. That equates to a 24hr trading volume that's down by $0.8bn from the amount traded on Thurs/Friday, despite Bitcoin being more valuable.
The only day less Bitcoin have changed hands this year was on June 9th. If you're looking for an omen in that, it's not a good one: June 10th, you see, saw a big drop in Bitcoin's value following news of the Coinrail hack.
Since hitting year-lows a little over a week ago, there's been a edgy calm around the price of BTC. It has, for the large part, settled into the groove it's found around the mid-$6,000 mark. The weekend's trading has lifted it slightly, and it will be interesting to see if the market can support it at $6,700 – or even push it higher.
Everything else was pretty muted – by Crypto market standards, anyway – among the Top 10, too. Nothing has moved much more that 5% price-wise in the last 24hrs. None of the other Top 5 cryptos suffered from the same markedly low trading volumes as BTC – nevertheless, they all seemed to pretty much follow suit in terms of their price fluctuations, with Ethereum (ETH) almost matching Bitcoin step-for-step.
With the exception of Tronix (TRX), though, everything is in the green over seven days. The gains, however, are small – and nothing you'd point at as a sign of recovery in general. Even significant lifts in volume for Bitcoin Cash (BCH) and Ethereum Classic (ETC) compared to Friday only added up to 3% and 1% moves in price. If you ever wanted to see a market that's waiting to see how things shake out, this would appear to be it.
Here's how the Top 10 looks now…
Joining the Top 10: 
No coins joined the Top 10 today, currently sitting at 11th and 12th on the list of trading volumes for the last 24hrs and Digital Cash (DASH) and Ontology (ONT), which also both fell in price.
The highest traded coin to actually gain value in the last 24hrs was Binance Coin (BNB), which ranks 14th in trading and was boosted by less a quarter of a percent.
Leaving the Top 10:
No coins left the Top 10 today.
Biggest Movers by %
Within Top 10:
NEO (Neo), though up over seven days, once again proved itself to be the most volatile of the Top 10 prices. Having joined the list last week following a block of good publicity surrounding its moves to great decentralisation, which led to a single-day 12% boost in its price, and a correction. Amid lower volumes across the board, it managed to hold its 8th position in terms of activity.
NEO entered the era of decentralization!https://t.co/JOA7UibNnU

— NEO Smart Economy (@NEO_Blockchain) July 4, 2018
Outside Top 10:
Here are Top 10 gainers in terms of price over the last 24hrs…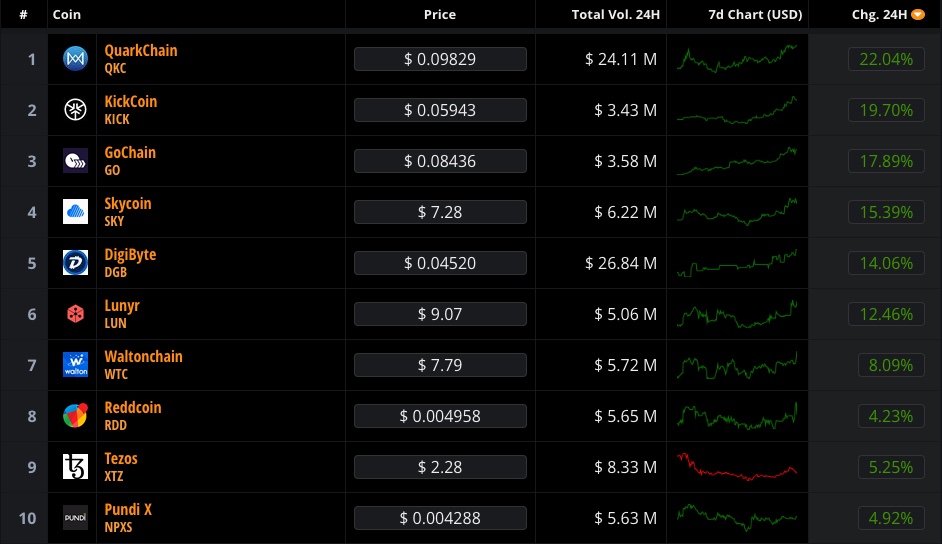 QuarkChain (QKC) tops the gainers charts on the back of a successful Testnet over the weekend, which as of today should see the proposed high-volume, heavily Sharded crypto attempting to live up to the 10,000 transactions per second target its creators have set for the stress test.
In its attempts to sort out issues of scalability, Quarkchain is following the same route – Sharding – that appears to be the choice of Ethereum going forward, so it will be interesting to see just how much of a jump-start it's going to get on the technology, which should be coming to the larger crypto in 2020.
Also performing well was KickCoin (KICK), with a pick up nigh-on 20% in the last 24hrs for the crowdfunding community coin.
Here are the Top 10 losers.