Crypto markets fall: Bitcoin price holds at $5,600; Top 10 coins all see big 24hr losses
Yesterday saw all of the major cryptocurrencies take heavy price hits, in a sell-off that at one point wiped $28bn from the sector market cap.
After weeks of relative calm in the crypto markets, the price of Bitcoin suddenly broke bad at around 4pm last night (GMT).
The warning signs had been there since the morning, when its price somewhat quietly slipped below the $6,300-mark that has – when one takes it in the context of the expected volatility levels of crypto prices – pretty much been its resting place since the start of September.
The drop almost instantaneously wiped a further $400 from the price of BTC, with later falls eventually pushing the headline crypto down to its lowest price of the year, according to the aggregated numbers used by data site CryptoCompare. By around 8.30pm – just four hours after it all started, the bottom – for now, at least – came at $5,469. After that point, a muted rally pushed the price back up above $5,600 – which has since proved to be the new support level.
The damage, in terms of market value, was extensive though. In the wake of the Bitcoin falls, none of the major cryptocurrencies could resist the downward pressure, and – as the Top 10 chart from CryptoCompare shows – all suffered losses, many worse than Bitcoin. Indeed, only XRP fared better over the prior 24hrs. Here's the chart as of 6.25am (GMT).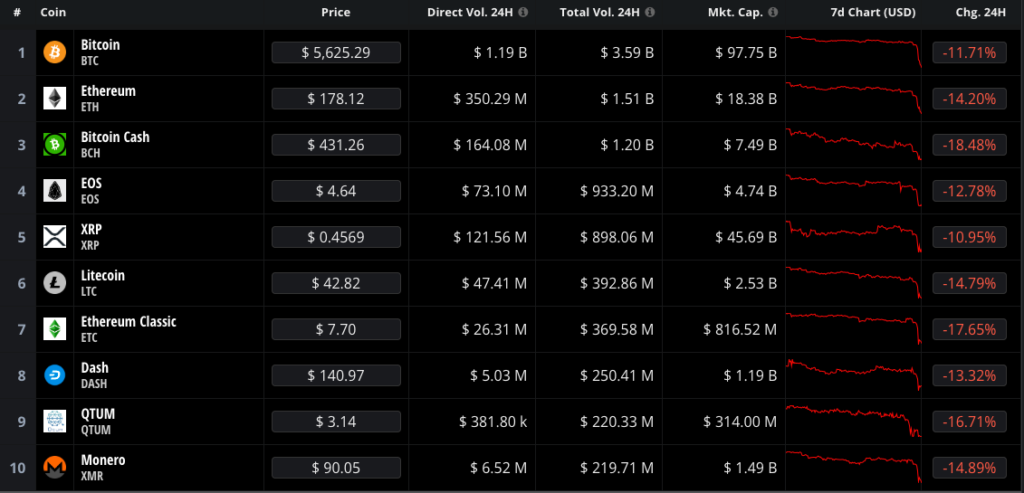 Worst hit of all, was Bitcoin Cash (BCH), which is embroiled in an increasingly acrimonious, and somewhat unseemly battle for control of its network between two rival protocols. Today will see it update, as part of a scheduled hard fork; a change that could see a 'hash war' develop between the two rival factions, as they throw computing power at each other in an attempt to control the blockchain.
Last night, that possibility led to one of the parties involved, Dr. Craig Wright – best known, perhaps, for his claim to be Satoshi Nakamoto himself –  to issue a threat to dump large amounts of Bitcoin onto the already struggling market in order to fund his efforts. How much his threat played into the events of the evening yesterday is unclear, but its impact can't have been positive on an already jittery market.
The real danger for Bitcoin Cash going forward, however, is that of a prolonged battle between the two sides; a potential outcome that could trash confidence in Bitcoin Cash going forward, with the general public's perception of crypto in general in line to take some collateral damage should the fallout spread far enough into the wider media's field of vision. Watching two sides battle for control of what, ostensibly, should be decentralised network can't look great, can it?
Ethereum (ETH) sank back below the psychologically important $200 mark; an event which, back in September when it sank to around the $170 mark, led  to extended existential discussions about the future of its ecosystem as a whole. Now, though – with the wider view of 2018 in our rear view mirrors – this drop seems more like another minor bump in the road, with ETH having been bouncing around just above that waterline for a couple of months now.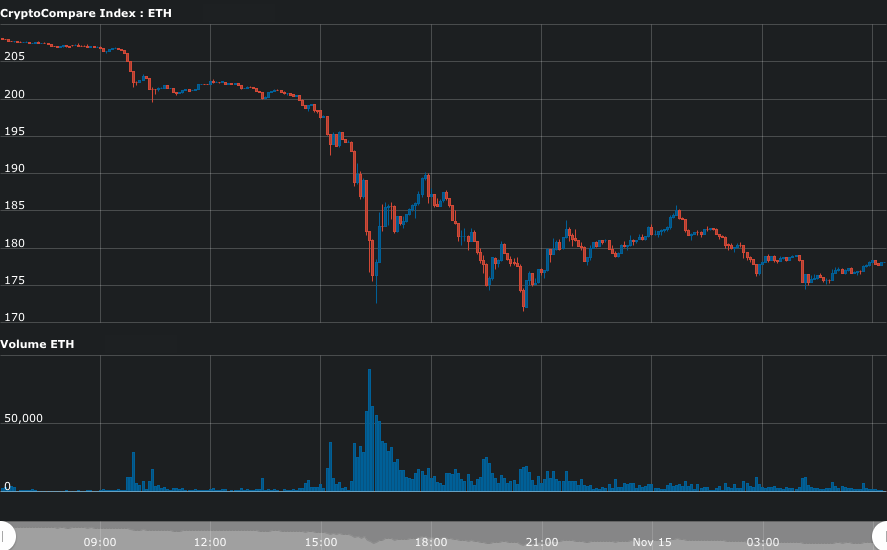 Since the drop, like Bitcoin, Ethereum seems to have stabilised. It is currently just about the $175 mark, around $25 down – a 14% over 24hrs.
While XRP fared better than all of its rivals in the Top 10, yesterday still saw it back below the 0.50c mark. For it, though – unlike almost all of its peers in the chart – leaves it significantly up on where it was in September, and still worth $0.20 more than it was at its early August low point for the year.