Capitulation? Bitcoin's Price Dropped 36% in November
Bitcoin (BTC) tanked in November on the back of high volumes, raising the possibility that the market has, to some extent, capitulated.
The largest cryptocurrency by market capitalization is currently trading at $4,000 – down 36 percent from its monthly opening price of $6,318 – according to CoinMarketCap data. That drop marks the biggest monthly loss of the year so far.
Amid the losses, trading volumes jumped by 33 percent month-on-month to $158.48 billion – the highest level since May.
It is worth noting that, at the start of the month, BTC was already down close to 70 percent from the record high of almost $20,000 reached in December 2017. So, November's losses essentially mark an extension of the bear market (which had supposedly bottomed out near $6,000) with a high-volume drop to 14-month lows below $3,500.
But BTC's failure to produce a meaningful bounce despite the repeated defense of the 21-month EMA in five months to October might have left investors disappointed, resulting in the increased sell-off as they left the market. Amid these signs of capitulation, it is still too early to call a long-term bottom.
In the last few days, however, prices have recovered from lows below $3,500 – possibly just bargain hunting after the sell-off, but potentially the start of a corrective rally, as the 14-day relative strength index (RSI) was reporting record oversold conditions a few days ago.
Monthly chart
On the monthly chart, BTC is set to close below the former support (now resistance) of the 21-month EMA for the first time since October 2015.
A long-term bullish reversal would only be confirmed if and when prices clear the EMA, currently lined up at $5,977.
4-hour chart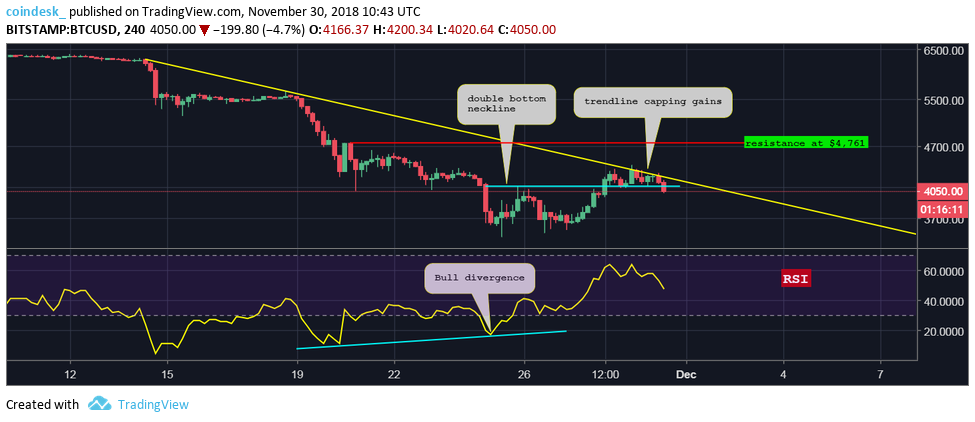 On the 4-hour chart, BTC has fallen back below the double top neckline support at $4,120, having faced rejection at the falling trendline. As a result, the immediate bullish outlook has been neutralized.
The recent low of $3,474 could come into play if the immediate support at $3,771 (low of Wednesday's bullish reversal candle) is breached.
A break above the falling trendline, if confirmed, would bolster the already bullish technical setup and could yield a stronger rally toward $5,000.
View
The bitcoin market is likely showing signs of capitulation.
A break below the neckline support of $4,120 has neutralized the immediate bullish outlook put forward by the double bottom breakout yesterday.
A move below $3,771 (Wednesday's low) would invalidate the bullish setup on the daily chart and allow re-test of the recent low of $3,474.
A break above $4,250 (falling trendline resistance) would open up upside towards $4,761 (resistance as per the 4-hour chart).
Disclosure: The author holds no cryptocurrency assets at the time of writing.
Bitcoin image via Shutterstock; price charts by Trading View