BREAKING: Bitcoin price nosedives below $6,000 towards year lows
In the last hour, after a couple of days of struggles, the price of Bitcoin has taken a sudden drop below the psychologically important $6,000 level. 
While Bitcoin has managed to maintain its price above $6,300 for a significant amount of time now, late morning (GMT) saw it lose that support. While the early afternoon saw it make a week recovery, around 4pm this evening saw it make a precipitous drop down as low as $5,700 according to aggregated pricing on CryptoCompare.
It currently stands at around the $5,850 mark – down around 9% on the day.
The $6,000 mark has acted as something of a crutch for Bitcoin throughout a difficult 2018, though prices have gone through that level on a couple of occasions during the year. The last time was on August 14th, though the low for the year came around the $5,600 mark in early July. All visits below the $6,000 mark have been relatively brief – but with concern rising over the effect of the acrimonious Bitcoin Cash fork tomorrow, and the general concerns around the fortunes of BitFinex and Tether of late, and generally very low trading and transaction volumes, this could potentially herald a further capitulation.
Update (5.15pm GMT): As of 5.10pm GMT this evening, the Top 10 coins by 24hr trading volume looks like this…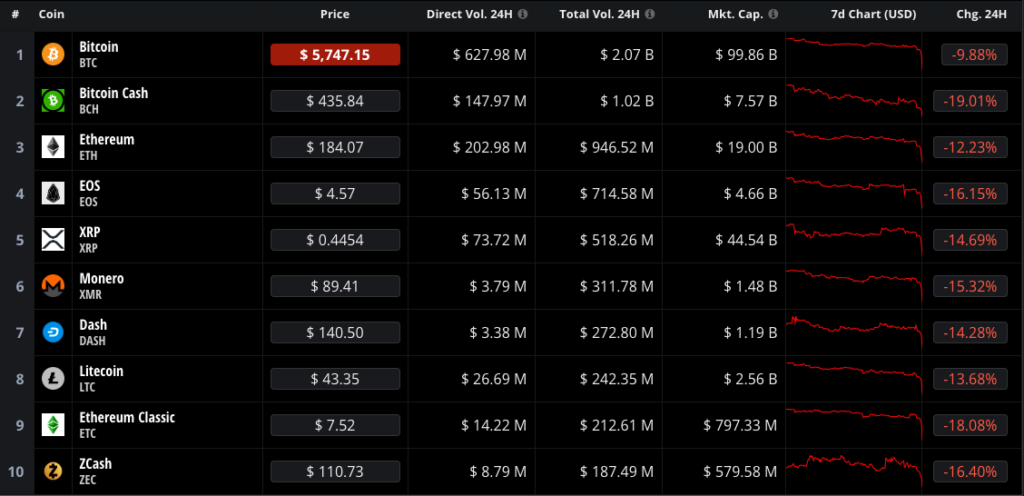 While Bitcoin has suffered heavily, it's not hard to see that the drop-off is far from limited with the rest of the Top 10 doubling BTC's daily losses. Bitcoin Cash is suffering worst of all, nearly 20% down in its pre-Fork form, with Ethereum back below its notable $200-level and XRP back well below $0.50c. Reports on social media state that some exchanges are hitting year-low levels for BTC, though according to CryptoCompare Bitcoin would have to drop another $150 from the price shown above to register a new low on its charts.