Bitcoin price sinks below $3,400 and back towards 2018 lows.
Trading over the last 24hrs – and a sharper fall this morning (UK, GMT) has seen the bitcoin price fall back towards its low-point from the end of last week. 
Trading during the morning and early afternoon today (GMT) has pushed the price of bitcoin back down below the $3,400 mark. At the time of writing, that leaves it around 2.5% down over 24hrs, at $3,385 according to CryptoCompare's aggregated price index.
The chart depicts a day of declines, with bitcoin eventually losing another support level – around $3,450 at around 10.30am this morning. Trading this afternoon has seen it down as low as $3,359 on the CryptoCompare index – just $100 or so higher than the Index year-low it posted on December 7th, at $3,248.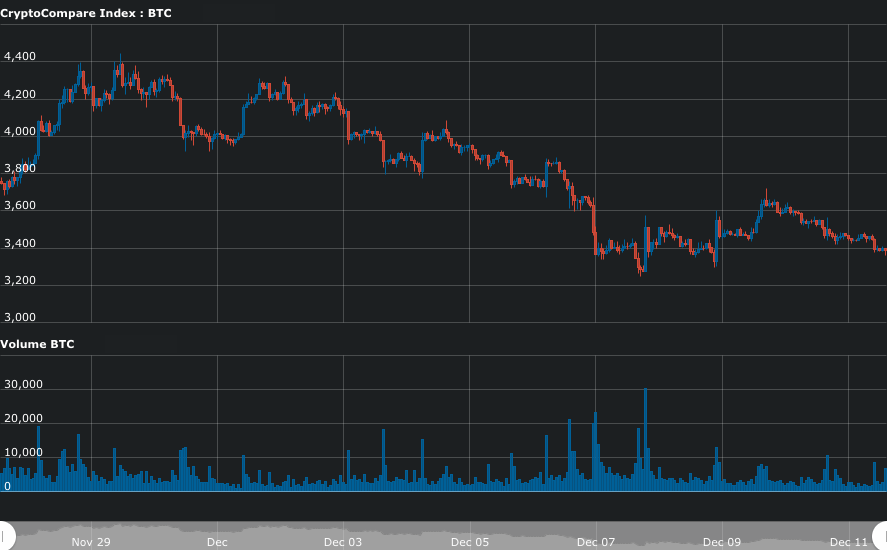 The new downward moves continues the seemingly relentless bearish trend of the cryptocurrency markets at the moment – and another day that has seen 24hr losses for nine of the Top 10 coins, ranging between 0.2% (XRP) and close to 6.5% for Bitcoin Cash (or at least for Bitcoin ABC on exchanges that still use the BCH ticker). At the time of writing, only Ethereum Classic is bucking that trend – with a modest sub-1% gain compared to a day ago.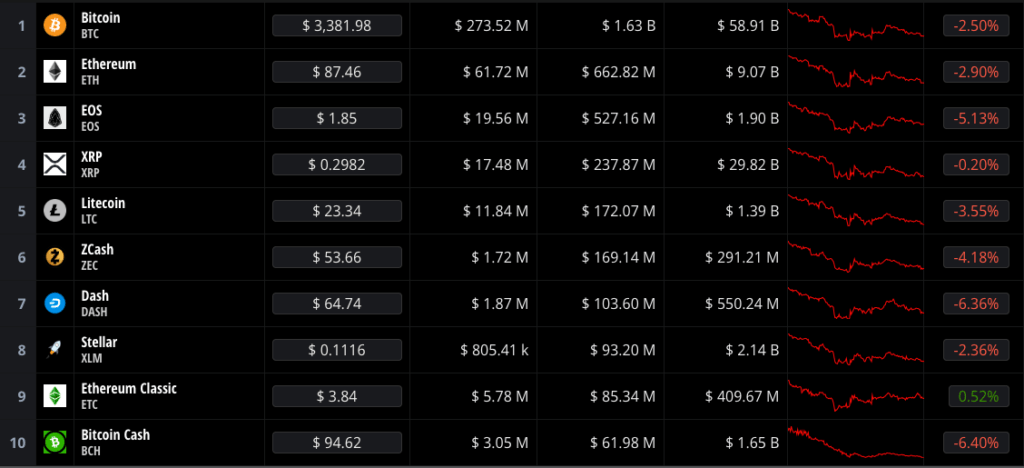 The two major dApp platforms appear the most depressed of a pretty sorry looking bunch, though. Ethereum currently sits below $90, While EOS is currently well under the $2. Six months ago today, Ethereum's high was $526, while EOS' was above the $11 mark. That shows losses for both somewhere around the 85% mark; by comparison, Bitcoin peaked at $6,719 six months ago today – leaving a drop off of around a half.
The consistent declining price, and dearth of positive sentiment among traders at the moment, makes it hard to see where any uptick would come from right now. Currently, the market capitalisation for all of crypto is $107bn, a level last seen in early August of last year, a move below $100bn – which wouldn't take an awful lot more in terms of pricing drops, it got as low as $104bn on December 7th – would be another major blow for the market as a whole, and make the recovery climb a whole lot steeper.