Bitcoin price gets continued support at $3,700 and recovers from overnight dip
For the third time in the the last week, buyers waiting around the $3,700 level kept the price of bitcoin from falling further after yesterday's sell-off.
Early morning trading (UK GMT) has seen the price of bitcoin recover from a fall yesterday evening that took it – albeit briefly – below the $3,700 mark.
While, for a short time, it looked like BTC could be heading back towards the 2018 lows it registered back on November 26th, buyers came back into the picture at that price point – a level that seems to have offered concerted support over the last two weeks.
Here we can see the price action for the last 24hrs – with that notable drop, that began at around 4.40pm (GMT) yesterday and quickly wiped another $100 from bitcoin's value.
Trading in the US and Asia saw enough support at the $3,750 mark hold the price there for a while, but it appears to be the breakdown of that buying interest, and the subsequent drop below the $3,700 level in the early hours of today that triggered the feeding frenzy. Those bargain hunters have since lifted bitcoin's price back to where it roughly where it was yesterday afternoon.
It's another example of the low-volume driven price falls and boosts that marked bitcoin trading during the Autumn, and which we discussed yesterday.
Taking a view of the headline crypto's performance across the last two weeks, we can see that similar price levels have offered support for bitcoin already – with any time below that seemingly important $3,700 region being pretty brief.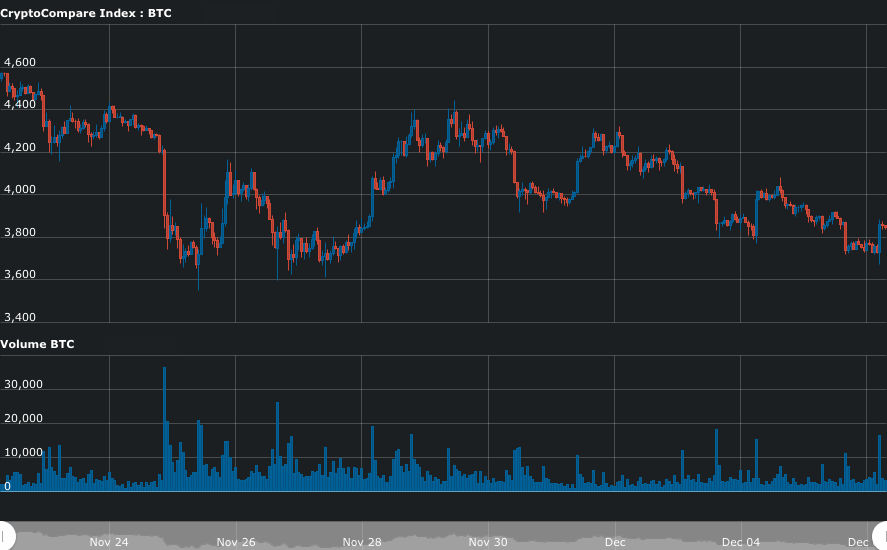 Zooming out a little further, to the month view, we can see that late November low – around $3,596 – and further evidence that traders aren't willing to see bitcoin go down much further that $3,700. At least for now, that is.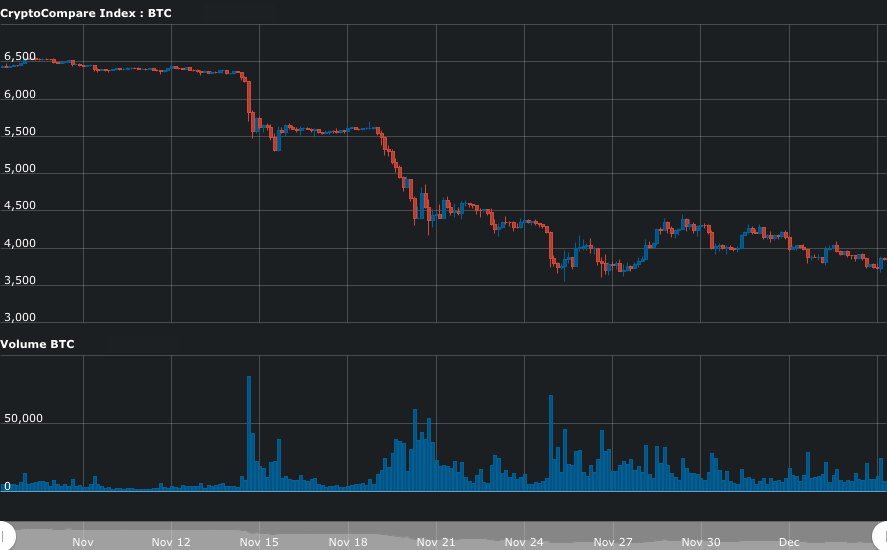 However, on the flipside of that is the fact that there is little in bitcoins current descending triangle of pricing – almost a min version of its performance over the year as a whole, that hints we are about to see a significant uptick. Though, if volumes can remain at the slightly elevated levels that they have been at since the significant price falls of last month without any significant further price drop-off, it may not be long before observers start to point to evidence of entering an accumulation phase.