Bitcoin price falls back below $4,000 in sudden drop
A flash drop in the price of BTC at around 6.30am saw it fall $200 in price in very short order. 
A sudden drop in the price of Bitcoin that began at around 6am this morning has seen it drop from above the $4,100 mark back down to around the $3,900 mark in around 30 minutes.
Looking at this chart below from Trading View, which shows activity on the Bitfinex BTC/USDT , we can see the major drop comes in a single five-minute candle between 6.30-6.35am (UK GMT, UTC), during which BTC dropped $133 – 3.24% of its value at the time.
Looking at the same activity on the Gemini BTC/USD pair, we see Bitcoin oscillating around the $4,000 mark for the day – the lower pricing being due to the so-called Tether Premium that markets appear to impose on users of the USDT stablecoin – before falling as low as $3,760. The 6.30 drop-off there is even more severe, however, at $176 (4.33%)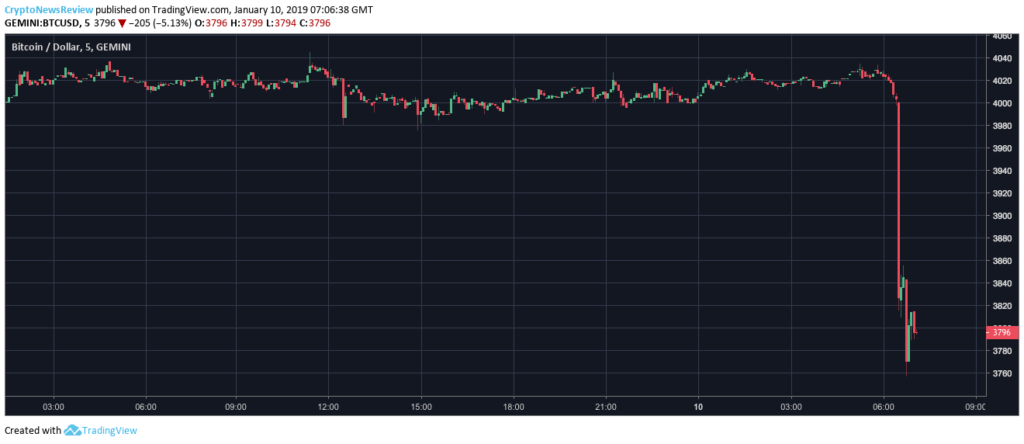 The movement seems to represent the other side of a low-volume driven 'table-top' or 'Bart Simpson' chart, that began with an almost mirror-image rise at 6pm-ish on January 6th. On Bitfinex, that saw the price lift from $3,960 to above $4,200. During 2018, especially the third-quarter of the year, we consistently noted such charts as indicative of large market buys and sells dotted in amongst rather depressed volumes of trading. The tendency of the market to behave this way is seemingly bleeding into early 2019, too.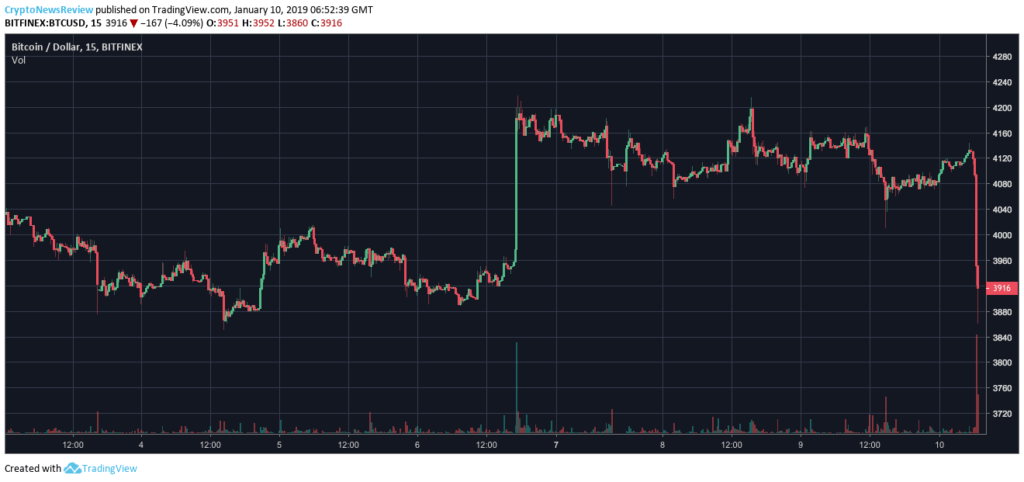 The new movement in price, however, breaks a longer term trend, seen since mid-December, of rising lows for Bitcoin. In the chart below we can see something like 17 of these sharp movement – to a great or lesser extent, with the biggest coming on December 20th. However, the lows Bitcoin has hit have tracked along a line (red) hinting at an upward trend, which this latest dive has broken through. Thus it remains to be seen whether support we've seen around $3,900 on the Bitfinex exchange can hold, as it has on several occasions already in 2019. Should it not, we can effectively look down in $100 increments for more support.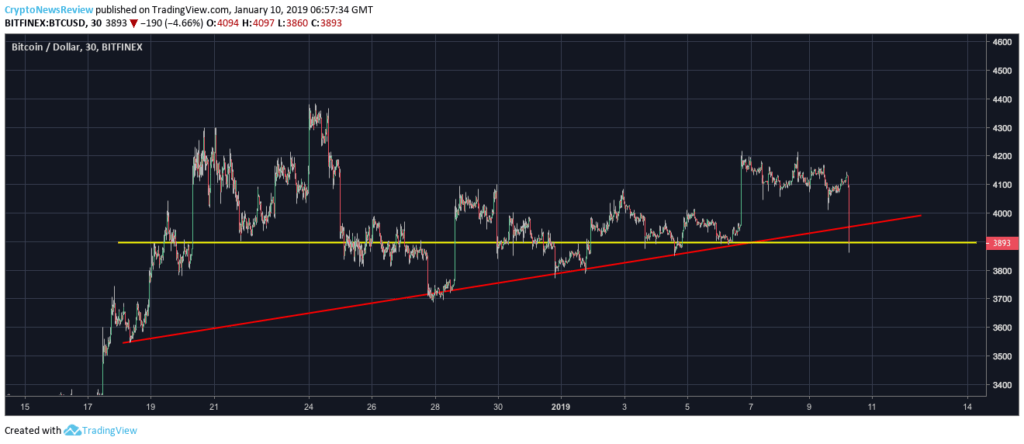 As of 7.25am (GMT, UTC) this morning, CryptoCompare's indexed price for Bitcoin had it at $3,855 – 5%+ down over 24hrs. After a good couple of days of trading, Ethereum has also suffered over the last day, shedding close to 10% of its value – with Litecoin (LTC), ZCash (ZEC) and Bitcoin Cash (BCH) struggling in a similar manner. Only Tron (TRX), riding a wave of good news, has lifted significantly in that time-frame, boasting a 15% uplift.
Here is the Top 10, based on 24hr volumes.