Bitcoin Price Drops to $4,200 Despite Record Low On RSI
Bitcoin's price continues to slide despite the oversold conditions signaled on the technical charts for the last six days.
The leading cryptocurrency by market capitalization fell to $4,200 soon before press time – a price low not seen since Oct. 5, 2017 – and was last seen trading at $4,484, according to CoinDesk's Bitcoin Price Index (BPI).
Notably, the 14 percent drop witnessed in the last 24 hours has pushed the widely followed 14-day relative strength index (RSI) below 10.00, its lowest reading on record. An asset is considered to be oversold and due for a corrective bounce when its RSI is below 30.00.
BTC's RSI fell into oversold territory on Nov. 14, but a strong recovery rally has still not materialized. That said, a corrective bounce might be seen in the next 24 hours or so, as the low on the RSI is backed by a rise in BTC/USD longs.
Daily chart
As seen above, BTC has dropped 34 percent in the last five days, despite being so oversold.
The cryptocurrency's inability to produce a notable recovery rally in such conditions could be considered a sign that bearish sentiment is currently very strong. Still, the bears should exercise caution in the next 24 hours.
BTC/USD Longs on Bitfinex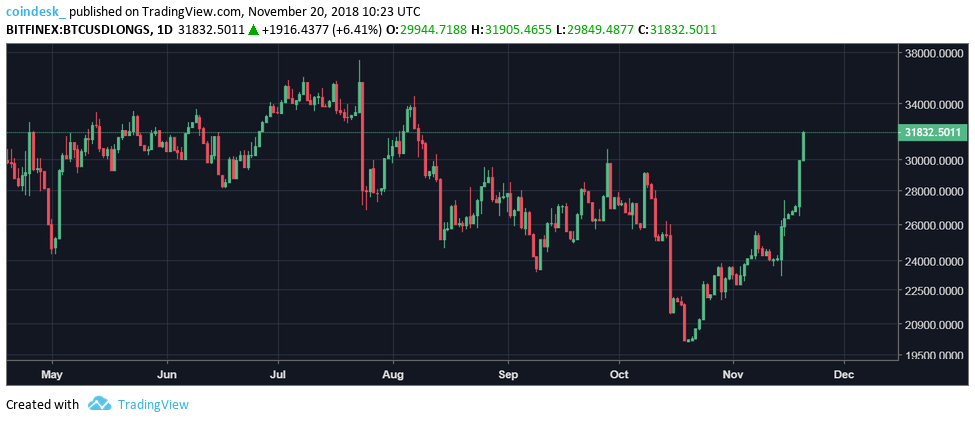 As seen above, long positions hit a 3.5-month high of 31,719 earlier today, having risen 34 percent in the last six days – both of which indicate that investors are buying the current dip.
Weekly chart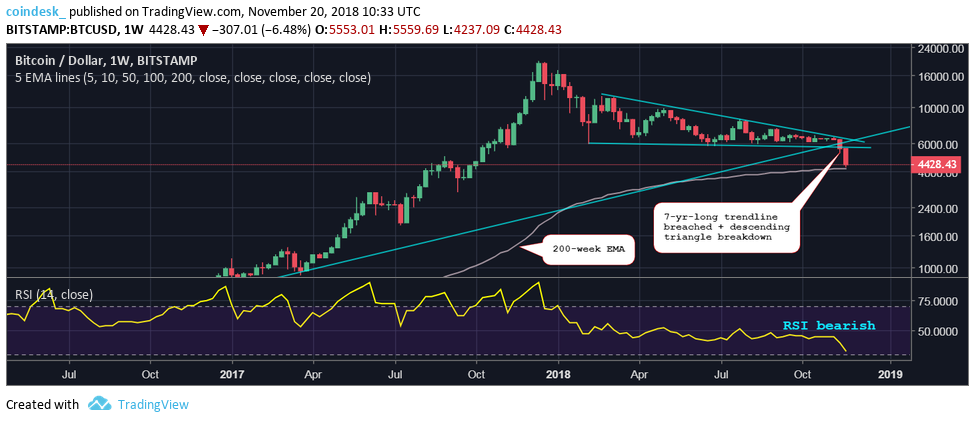 A corrective bounce, if any, will likely be short-lived as both descending triangle breakdown and the break of the seven-year-long rising trendline has likely set the tone for a drop to $4,100 (trendline connecting the January 2015 and April 2017 lows.)
View
The record low reading on the RSI and the steady rise in long positions indicates scope for a minor bounce, possibly to the descending 5-day EMA, currently at $5,050.
The weekly chart continues to favor a drop to the long-term rising trendline support of $4,100.
The immediate bearish outlook would be invalidated if a correction ends up pushing prices above the 10-day EMA of $5,424.
Disclosure: The author holds no cryptocurrency assets at the time of writing.
Bitcoin image via Shutterstock; Charts by Trading View