Bitcoin Price Charts 'Death Cross' In First Since 2014
Bitcoin's (BTC) price woes may not be over just yet, as a key technical indicator is about to turn bearish for the first time in four years.
On the three-day chart, the 50-candle simple moving average (SMA) looks set to cut the 200-candle SMA from above, confirming what is popularly known as the "death cross." This specific bearish crossover was last seen in December 2014.
The onset of a death cross can be a warning that a bear market is looming, according to technical theory. In reality, however, it is the result of a prolonged bear market – i.e., it's a backward-looking indicator. As a result, the oversold market usually sees a bounce after a bearish crossover is confirmed.
In this case, the crossover looks likely to occur in the next few days. The bulls, however, are cautioned against betting on a follow-up price jump immediately, as prices dropped 50 percent in the four weeks following the death cross confirmation in mid-December 2014.
At press time, the leading cryptocurrency is trading at $6,185 on Bitstamp, representing a 0.8 percent drop on a 24-hour basis.
3-day chart
On the three-day chart, the impending death cross can be seen as the confluence of the 50-candle and 200-candle simple moving average (SMA), which have closed sharply in the last three months.
Further, the relative strength index (RSI) of 41.00 is biased toward the bears and holding well above the oversold territory (below 30.00).
Therefore, prices could be in for a deeper drop in the short-term, possibly to levels below the June low of $5,774.
It's worth noting that the sell-off witnessed after the death cross seen in December 2014 ended up carving a long-term bottom at $152 in January 2015. On similar lines, the impending crossover and the resulting slide in prices, if any, could turn out to be the final leg of the bear market.
As for today, the cryptocurrency is looking weak, having found acceptance below the trendline connecting the Oct. 11 and Oct. 31 lows.
Daily chart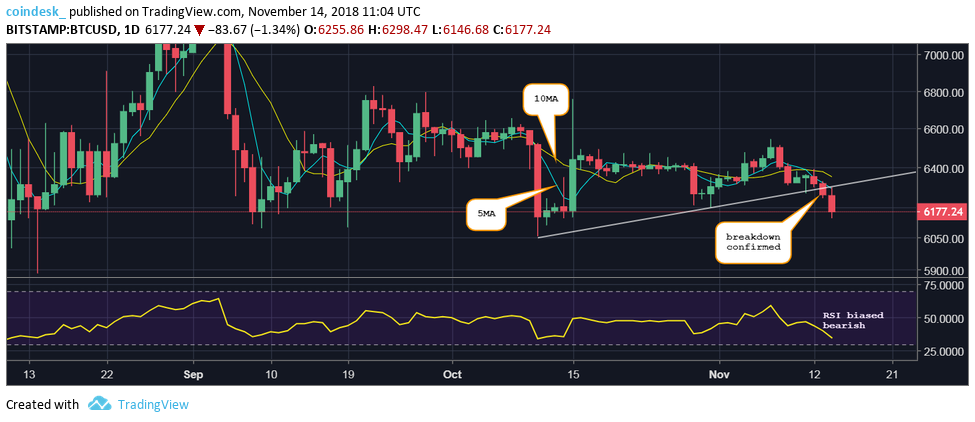 Over on the daily chart, the violation of the ascending trendline support is backed by the downward sloping 5- and 10-day SMAs. This backs up the view that deeper losses toward $6,000 could be in the offing in the next 24 hours.
View
The upcoming death cross on the three-day chart could push prices below the June low of $5,774 but might mark the final leg of the current bear market.
The long-awaited bullish reversal is seen gathering steam above the 50-candle SMA on the 3-day chart, currently at $6,629.
A move above $7,400 (September high) would signal completion of the bullish reversal.
Disclosure: The author holds no cryptocurrency assets at the time of writing.
Bitcoin image via Shutterstock; charts by Trading View