Bitcoin price breaks above $4,000 in early morning boost
The coffee was a little sweeter this morning, as early trading (UK GMT) pushed the price of Bitcoin up by another $200 to break $400 for the first time in a fortnight. 
A rush of demand for Bitcoin in the early hours of this morning saw its price break resistance at $3,800 after it had bounced off that level for most to the night.
Having pushed through that barrier on the back of a large spike in volume, it then rose around $300 over the rest of the morning to break past $4,000 and briefly cross the $4,100 mark on two occasions. At the time of writing, it currently sits under that mark – having receded back to $4,061 according to CryptoCompare's Index of prices.
Looking at the performance of Bitcoin on BitFinex, to which CryptoCompare attributes 33% of the BTC/USD pair market – debatable, considering issues with Tether, but anyway –  we can see today's move comprehensively breaching the 30-day Moving Average for BTC, and beginning the long ascent back towards a meeting with the 200-day MA (yellow line) and potentially the end of the bear market.
Don't hold your breath for that, just yet though – as even optimistically  we're talking about another $2,000 lift in price. There will no doubt be some interesting diversions along that long road.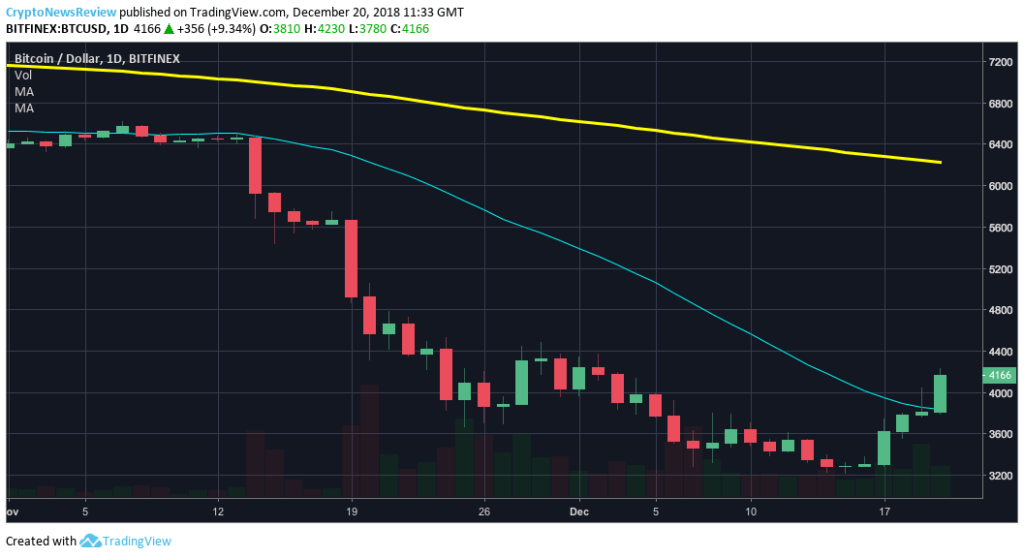 Before we can even consider a timescale for putting another 50% on the price of BTC, a sobering thought indicative of the damage that's been done in recent weeks by the savage declines in value we've seen,  it's worth looking at the resistance it's going to likely in the immediate future.
Most obvious is between $4,300 and $4,400 – where it was repelled at the start of the month. Then comes another point it last hit on November 19th at around 4,700 – which is also where the 50-day MA sits right now.
Should it break that (!), we can begin to look towards $5,600 – but it probably won't pay to get that far ahead of ourselves based on just four days of recovery, especially in a market where the overwhelming long term trend is still down.
This can definitely be quantified as a breakout now, but whether it has the momentum to be anything more going forward, remains to be seen.