Bitcoin Oversold on Weekly Price Chart for First Time in Four Years
A key long-term bitcoin (BTC) price indicator is reporting oversold conditions for the first time in almost four years.
The widely followed 14-week relative strength index (RSI), which oscillates between zero to 100, is currently seen at 29.80 – a level last seen in January 2015.
An asset or a cryptocurrency is considered to be oversold if the RSI is holding below 30.00. On the other hand, an above-70 reading indicates overbought conditions.
Essentially, the under-30 reading on the 14-week RSI indicates that the recent heavy selling from the highs above $6,200 may have reached a point of exhaustion. As a result, BTC may defend the immediate support at $3,179 (200-week moving average) in the short-run.
Many experts also believe that RSI's drop below 30.00 is followed by a strong corrective bounce. That's not necessarily true as some markets enter into very strong trends, in which case the RSI can stay oversold or overbought for prolonged periods of times.
Notably, BTC's ongoing bear market is looking quite resilient, as the sell-off is backed by strong volumes. Hence, a strong bounce could remain elusive for some time, despite the oversold readings on the 14-week RSI.
As of writing, BTC is trading at $3,390 on Bitstamp, representing a 2.3 percent drop on a 24-hour basis.
Weekly chart
The RSI dropped below the key support of 53.00 on the weekly chart in late January, signaling a bullish-to-bearish trend change. As of now, it's holding in oversold territory below 30.00.
It is worth noting that RSI's January 2015 drop below 30.00 was short-lived and BTC soon picked up a bid in response to the oversold conditions.
Daily chart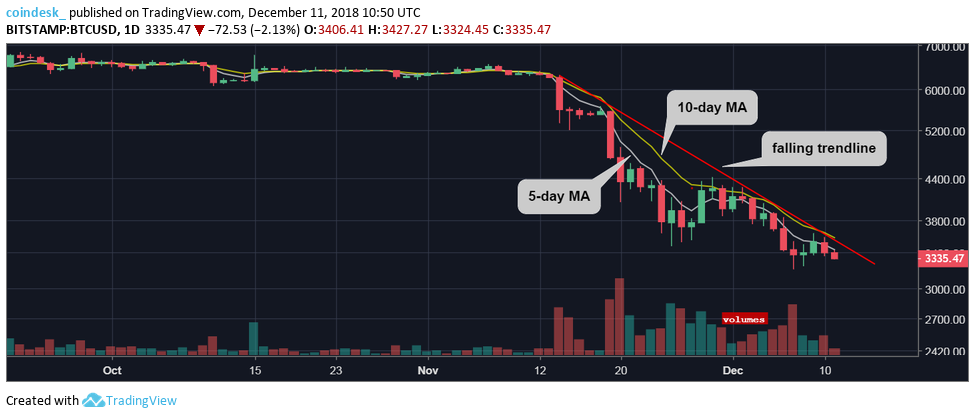 On the daily chart, the immediate outlook remains bearish as long as BTC is trading below the descending trendline.
BTC failed to cut through the diagonal resistance yesterday, adding credence to the bearish setup on the 3-day chart. So too, do the 5- and 10-day MAs which are trending south.
View
BTC could drop to the 200-week MA of $3,179 in the next day or two. That support, however, may hold ground, as the 14-week RSI is signaling oversold conditions for the first time since January 2015.
A break below the 200-week MA would bolster the bearish setup seen in the 3-day chart and open the doors to $2,972 (September 2017 low).
A high-volume move above the falling trendline (on the daily chart) would weaken the bearish pressure. A bullish reversal, however, would be confirmed only above $4,400 (Nov. 29 high).
Disclosure: The author holds no cryptocurrency assets at the time of writing.
Bitcoin image via Shutterstock; charts by Trading View