Telcoin (TEL) Price Prediction 2021 and Beyond – Is TEL a Good Investment
The main goal of cryptocurrency is to make it easier to transfer funds directly between two parties, without the need for a trusted third party like a bank or any other financial institution. This type of solution is said to benefit the participating parties on both ends of a transaction, saving them more time and money. In today's world, this can be very beneficial for everybody since nobody has time to lose. Therefore, using banks or other traditional ways of transferring money is not that time and cost-efficient when we compare it to using certain cryptocurrencies. One cryptocurrency that is specifically designed to act in such a way is Telcoin (TEL). Telcoin allows you to send high-speed and low-cost international remittances through blockchain technology. But does Telcoin have a future? How will you benefit from it? What prices may the coin reach? Throughout this article, we will try to elaborate on what Telcoin is, what function it serves, and how you might gain from it.
What is Telcoin (Tel)?
First off, let us talk about the early days of Telcoin. The coin was founded in 2017 by Claude Eguienta and Paul Neuner, a team of two experienced Tech Entrepreneurs. This relatively new cryptocurrency is based on the Ethereum blockchain, ensuring almost instant and low-cost transactions between two parties. Telcoin aims to be made available to everyone who owns a phone through national telecom operators worldwide. Telcom is considered a revolutionary coin, being the first that used the limitless nature of blockchain technology to tap into mobile telecoms. The solution that Telcoin has introduced to the market allows everyone that has access to a phone to have their own financial account ready to use at all times, regardless of where they are. Statistically speaking, there are about five times more mobile phones in the world (~5 billion) than there are active bank accounts (~1.2 billion). If Telcoin does not fail to achieve its goals, there may be around 5 times as many active financial accounts as there are today, giving many people an easier time to access and use their financial assets. All you have to do to start using Telcoin is download their app on your phone and create a wallet.
Telcoin Price Analysis
The cryptocurrency market is known for its volatility, with prices skyrocketing and plummeting in short periods of time. Telcoin joined the market with a price of only $0.004, and in just some months its price plummeted to $0.0005, where it sat until earlier this year. Like many cryptocurrencies, Telcoin followed the uptrend of the last market bull run that happened this year, where it increased by 4400%, leaving it with a price of $0.008. However, its growth did not end there. After dwelling around that price for about a month, Telcoin reached skyrocketing heights, setting an all-time high of $0.059. Unlike many other cryptocurrencies, the last market correction did not cause that much damage to the price of Telcoin, which is now sitting at $0.026, only 55% lower than its all-time high.
Telcoin (TEL)
Rank: 60
Total Supply
100.00 B TEL
Telcoin Price Prediction 2021
The year 2021 has been a fruitful year for many cryptocurrencies for sure and this applies to Telcoin as well. The coin entered this year with a price of $0.00018 and proceeded to stay around that price until the end of January, where it began to increase rapidly. Just weeks in February, the coin increased 900% in price, hitting $0.0019. This increase was just the beginning of a journey that left the coin with a 29900% increase in its price by the beginning of May. Because it had such a good run, Telcoin is not expected to go downward based on the DigitalCoinPrice prediction. Telcoin may continue its growth slowly towards the end of the year, expected to leave the year 2021 with a price of $0.039. However, WalletInvestor has a more pessimistic forecast for the price of Telcoin, hinting that the coin might close the year with a price of $0.027. Based on these predictions, it can be concluded that it is likely for the price of Telcoin to stay above $0.01 throughout the whole year.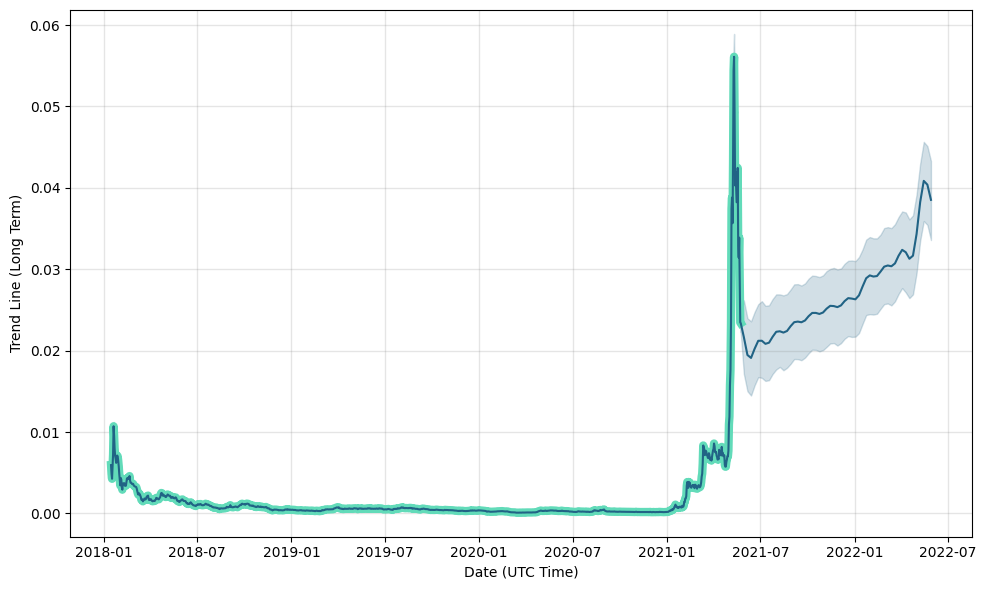 TEL price prediction for 2021-2022. Source: WalletInvestor
Telcoin Price Prediction 2022
Telcoin has big plans for the future, aiming to cooperate with national telecom providers throughout the globe. This may affect the price of Telcoin, for good. According to DigitalCoinPrice, Telcoin may reach a price of $0.045 by 2022, a price that is under its current all-time high. Nearly the same predictions have been made by GovCapital, which states that the coin might hit prices of $0.041 by the year 2022. Even though not so bullish, the growth of Telcoin is being predicted to continue by many crypto experts and websites. One factor that plays a huge role on the price of Telcoin and its future is the implementation of the coin in our daily life activities – which for Telcoin means using it for remittance. The more mobile network partners Telcoin has, the more its price will increase. Therefore, it is hard to have an absolute conclusion for the future of the price of Telcoin because it comes with many strings attached.
Telcoin Price Prediction 2023, 2024 and 2025
The cryptocurrency market is still a project in its early stages. This means that every crypto is a project in its early stages, no matter how many times it evolved and improved itself. As time passes, the cryptocurrency market is becoming more developed, attracting new investors and consequently increasing its overall value. When it comes to Telcoin, DigitalCoinPrice predicts that it will reach a price of $0.056 by 2023, sitting just below its current all-time high. The forecast shows that 2024 might be the year where Telcoin will break its current all-time high by reaching a price of $0.068. To confirm that the coin is set to grow through the next couple of years, DigitalCoinPrice also forecasts that by 2025, Telcoin may have reached a new high of $0.078.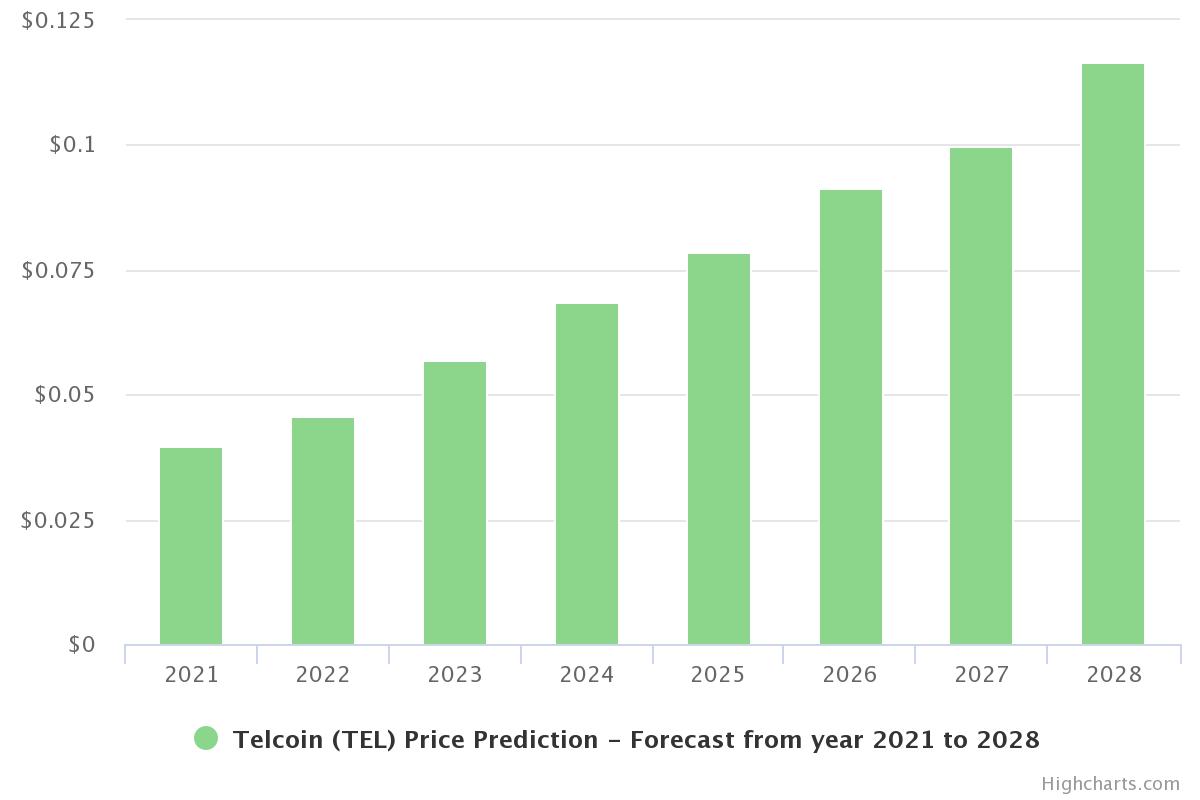 Telcoin price prediction 2021-2028. Source: DigitalCoinPrice
Another forecast regarding Telcoin is that done by CryptoGround, which hints that Telcoin may reach a price of $0.40 by 2023, a price of $0.47 by 2024, and a price of $0.061 by 2025, setting a new all-time high for the coin. In general, this forecast may be considered as a more pessimistic one than the above-mentioned forecasts.
Can Telcoin Reach $1?
The solution that Telcoin provides has much potential; and with a dedicated team behind it, Telcoin may be able to skyrocket again sometime in the future. Some weeks earlier, Telcoin announced its partnership with the GSM Association which represents more than 1000 mobile operators – 750 of them being full members of GSMA. This partnership solidifies the credibility of Telcoin and indicates that the team behind it is working towards reaching its main goal. With more partnerships like this one, Telcoin may see a huge increase in price, potentially hitting the price of $1. Telcoin has a maximum supply of 100 billion, with 53 billion circulating at the time of writing; hence, it may have a harder time hitting the $1 mark anytime soon. Another major process for Telcoin is being listed on Binance. Even though there are many cryptocurrency exchanges where Telcoin is listed, Binance is the biggest in the world; therefore, if Telcoin gets listed there, it will be available to additional millions of people – potentially affecting its price for good.
To emphasize the importance of a low supply, we can compare Telcoin with Stacks (STX). Even though they have nearly the same market capitalization, Stacks is sitting at a price of $0.97 while the price of Telcoin is sitting at $0.026. The lower the supply, the more impact do investments make on the price of a coin.
Can You Stake Telcoin?
Telcoin is a cryptocurrency that is not mineable, meaning that you can not use computing power to earn more Telcoin. But is there a way to earn Telcoin tokens other than buying them? Apparently, there is. In the last update, Telcoin announced that it is live on Quickswap where it aims to use the Proof-of-Stake (PoS) Consensus Mechanism, rewarding its users for holding the coin. According to them, users have already started to create a small, vibrant marketplace in which active users can begin earning fees on swaps today by participating in these 3 active pools:
What are Telcoin's Partnerships?
As the cryptocurrency market gets bigger, it is attracting many leading companies from different industries. As mentioned before, Telcoin plans to use partnerships with these types of companies to expand its network.
GSMA Partnership

– One example would be Telcoin's partnership with the well-known GSM Association, a partnership that comes with much value to Telcoin, serving as a bridge to Telcoin and hundreds of mobile operators.

Jumia Partnership

– Another very important partnership for Telcoin is its partnership with Jumia, a marketplace company that mainly targets African countries.

Quickswap Partnership

– Because Telcoin aims to aid the DeFi world, linking ties with decentralized exchanges is very beneficial for them. Through this partnership, Telcoin also aims to allow staking of its coin, attracting new investors, providing liquidity to its market, and making Telcoin more secure.

Plaid Partnership

– Plaid is a start-up financial service company that aims to unlock financial freedom for everyone. Even though both Plaid and Telcoin are still early in the process, this partnership may be a positive one because of the potential that these two have.

KuCoin Partnership

– Cryptocurrencies benefit from being listed on exchanges since they are made available to millions of people. For Telcoin, partnering with KuCoin has been a very positive partnership, connecting Telcoin with the 5 million active users that KuCoin has.
Every partnership comes with its importance, and for a coin that is still in its early stages, that importance is even higher. Some more partnerships that Telcoin succeeded in achieving are partnerships with GCash, LinkAja!, Telin, Paga, UniPagos, Vimo, EcPay, TouchPay, CoinGate, Uniswap, and Balancer.
What Exchanges Have Listed Telcoin?
As earlier stated, cryptocurrencies benefit from being listed in all kinds of cryptocurrency exchanges – regardless if they are Decentralized or Centralized Exchanges. At the moment of writing, Telcoin is listed in only five exchanges, three of them being Decentralized Exchanges (DEXs). So, you can buy Telcoin on KuCoin (CEX), Uniswap (DEX), Balancer (DEX), Quickswap (DEX), and HitBTC (CEX). Moreover, KuCoin has announced that it is aiming to transition to a completely Decentralized Exchange platform sometime in the near future.
When a cryptocurrency gets listed on a major cryptocurrency exchange, it is usually followed by huge price actions, most often seeing increases in its price. This was also the case with Telcoin. On the 30th of April, Telcoin got listed on Quickswap, and only days later the price increased by 883%, jumping from $0.006 to $0.059.
Is Telcoin a Good Investment?
The cryptocurrency market does not seem to plan on stopping its growth anytime soon. Andy Edstorm, a well-known financial advisor, predicts that by 2030 Bitcoin alone will have a market capitalization of $8 trillion. If Bitcoin keeps its 43.1% market dominance until then, more than $8 trillion will be distributed on different Altcoins. Therefore, even if you missed the last bull run, do not worry because it seems like this is only the beginning of the cryptocurrency market.
Investing only $100 on Telcoin at the beginning of the year would leave you with a 14000% increase on your initial investment, adding as much as $14400 in terms of value in your portfolio. According to the forecast of DigitalCoinPrice, Telcoin is a profitable investment. If the predictions of Andy Edstorm are correct, Telcoin may see a huge increase in its value, potentially hitting the price of $0.20 by 2030.
Does Telcoin have a Future?
The future of any coin depends on the cryptocurrency market as a whole. Day by day, the market is growing and its coins are being implemented for real-world usage; nevertheless, there are world superpowers like China, Turkey, and India who constantly put restrictions regarding the market. When Turkey banned cryptocurrencies earlier this year, the whole market saw a decrease of 20% in its market capitalization in a matter of days. Following the steps of Turkey, China put some major restrictions related to cryptocurrency assets which served as a catalizator for a huge market downtrend, with prices falling as much as 50% in less than a week. On the other hand, there are countries such as the United States, the United Kingdom, and Norway that have started to prepare for adding their own cryptocurrency to the market.
Telcoin is a project that provides an effective solution mainly for remittance payments. Being this innovative and having a very dedicated and qualified team behind it means that the coin has the potential to achieve ever-growing success. According to many experts and websites, Telcoin does have a future – a bright one.
Takeaways
Telcoin's goal is to capitalize the phones of everybody who uses its platform, allowing them to send payments to anyone almost instantly at a low cost.

Telcoin aims to achieve its goals by partnering with national telecom providers.

During the last bull run, Telcoin saw a 29900% increase in its price in only 4 months, setting its all-time high to $0.059.

It has a Maximum Supply of 100 billion and a Circulating Supply of about 53 billion, meaning that only 53% of its Max Supply is circulating.

Because of its high supply and because it is still in its early stages of development, Telcoin is not predicted to reach the price of $1 anytime soon; however, it may do so in the future.

According to many predictions, the coin may continue its growth steadily throughout the next few years, potentially hitting the price of $0.061 by 2025.

You can buy Telcoin through cryptocurrency exchanges such as KuCoin, Quickswap, Uniswap, Balancer, and HitBTC.

Many forecasts and experts think that now is a good time to invest in Telcoin.