US Institutional Bitcoin Demand Has Dried Up, says On-Chain Analyst
Bitcoin (BTC) nosedived by more than 9% in the last 24-hours to trade at $32,875 during the intraday, according to CoinMarketCap.
The top cryptocurrency has been trying to regain momentum since it slumped to lows of $30k on May 19. This plunge pushed Bitcoin below the 200-day moving average (MA), a fate not seen since March 2020.
On-chain analyst William Clemente III noted that Bitcoin demand by US institutional investors had slowed down. He explained:
"It seems that US Institutional demand for BTC has slowed. Coins had been moving off Coinbase at a growing rate until late February. Now the trend has reversed."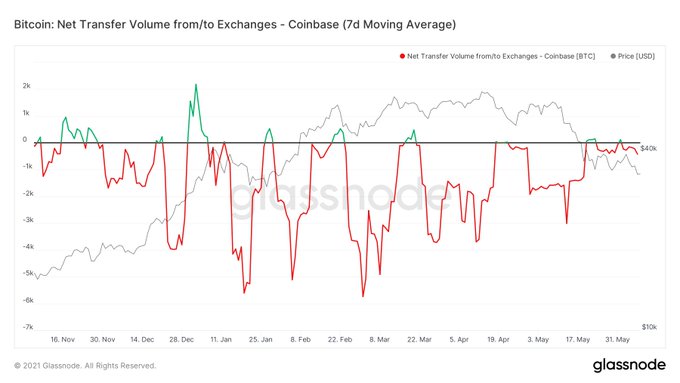 He further pointed out that whale holdings of more than 1,000 BTC had been dropping since February.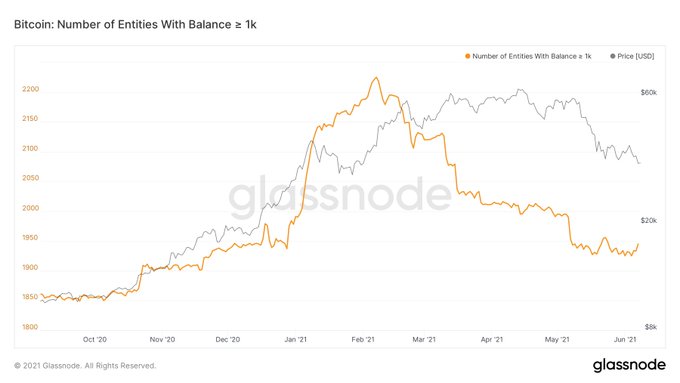 According to a recent weekly report by digital asset firm CoinShares, institutional investors continued to reduce their long positions in BTC. The net outflow reached a record of $141.4 million in the past week.
Is Bitcoin's bull run over?
According to an analysis by investment manager Timothy Peterson, Bitcoin's bull run might be over because the leading cryptocurrency has traded below the 200-day MA for 17 consecutive days.
He stated:
"Bitcoin price has dropped below 200-SMA for 17 consecutive days and counting. This metric has 'always' marked the end of a bull run and the start of a bear market."

The 200-day MA is a key technical indicator used to determine the general market trend. It is a line that shows the average closing price for the last 200 days or roughly 40 weeks of trading.
It, however, remains to be seen whether a shift is playing out in the Bitcoin market.
Meanwhile, former US President Donald Trump showed his dislike for Bitcoin because he views it as another currency competing against the dollar. Trump has always depicted his disapproval of cryptocurrencies due to its high volatility.
Image source: Shutterstock