Bitcoin Transaction Volume Hit a 3-Month Low of $3.014 Billion
Bitcoin (BTC) gained momentum in the last 24 hours to trade at $37,200 during the time of writing; the transaction volume also hit a 3-month low of $3.014 billion, as acknowledged by on-chain metrics provider Glassnode.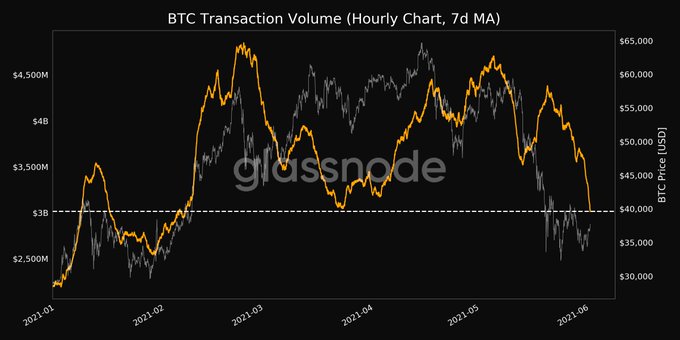 The leading cryptocurrency recently experienced a market crash, that the price slumped to lows of $30,000. On the other hand, the number of Bitcoin receiving addresses reached an 11-month low of 27,317.530.
Nevertheless, Bitcoin supply is getting back to long-term holders as they continue accumulating more BTC.
Glassnode echoed these sentiments. The on-chain metrics provider explained:
"Bitcoin market currently has three supply trends in play: short-term holders are distributing, long-term holders are holding and accumulating, and miners are accumulating. The BTC market is a battleground between the bulls and the bears."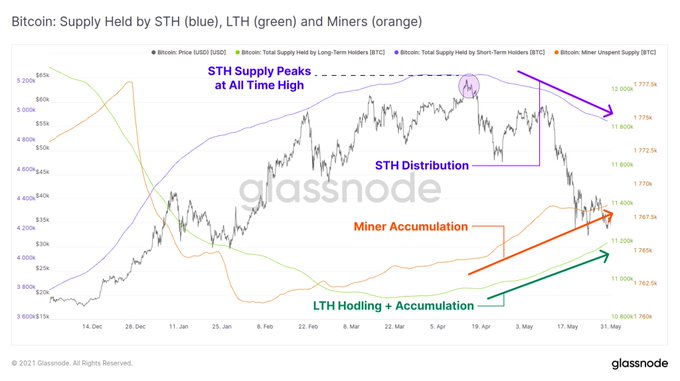 Bitcoin Purpose ETF hit a new ATH
According to data analyst and Bitcoin researcher Jan Wuestenfeld:
"The Bitcoin Purpose ETF has reached a new ATH in bitcoin AUM with ~ 19.16k BTC on Friday. The last ATH was on May 3rd with roughly ~ 19.09k BTC."
The continuously rise of the Canada-based Bitcoin ETF could signify that retail demand is getting back on its feet.
Bitcoin Exchange Traded Fund (ETF) is a type of security that tracks the overall price of Bitcoin. It enables investors to trade and purchase shares of it on traditional exchanges, circumventing crypto trading platforms.
72.08% of addresses holding Bitcoin are in profits
According to crypto data provider IntoTheBlock:
"The IOMAP indicator reveals that at the current price of $36,774.19. 72.08% of the addresses holding BTC are in a state of profit. For any address with a balance of tokens, ITB identifies the average price at which those tokens were purchased and compares its current price."

It, therefore, shows that long-term holders are still in profits ever Bitcoin broke the previous record of $20,000 since December 2020.
Image source: Shutterstock