Active Bitcoin Addresses Hit a 14-Month Low as Long-Term BTC Holders Continue Accumulating
Bitcoin dropped below the psychological mark of $30K for the first time since January to hit lows of $28K in the last 24 hours. Nevertheless, the leading cryptocurrency has gained momentum. The latest price was up by 7.47% at $34,013 during intraday trading, according to CoinMarketCap.
Despite this surge, the number of active BTC addresses reached a 14-month low of 43,639.482, as revealed by on-chain metrics provider Glassnode.
Bitcoin's recent renewed effort to breach the $40,000 level was dented by China's strengthened crackdown of crypto mining and related trading, triggering FUD (fear, uncertainty, and doubt) among investors.
As a result, on-chain transactions nosedived to a two year low of 8,843.054, whereas BTC price has been down by 15.52% in the last 7 days.
According to data from encrypted data aggregator Skew, Bitcoin is currently down nearly 46% this quarter.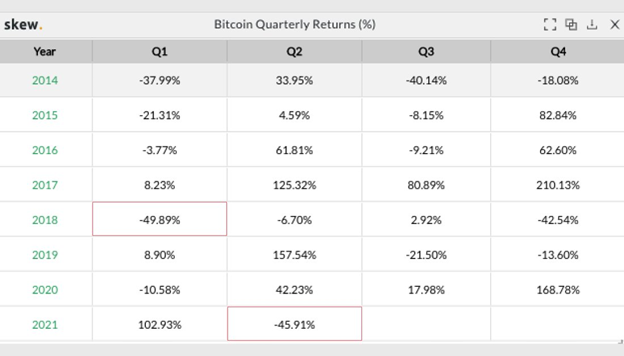 Data shows the quarterly returns of Q2 Bitcoin this year have reached the same level as the first quarterly bear market in 2018. Bitcoin fell by 45.91% in Q2 this year, slightly better than the 49.89% loss of Q1 in the 2018 bear market.
Long-term Bitcoin holders are still at a record-high
Despite the falling Bitcoin price, long-term holders are not relenting in their quest to accumulate more coins because they are still at an all-time high. Data science firm IntoTheBlock acknowledged:
"Just a reminder that despite the recent downwards price action, the number of Bitcoin hodlers is currently at an all-time high. 58.41% or 22.22 million addresses are holding BTC for more than one year."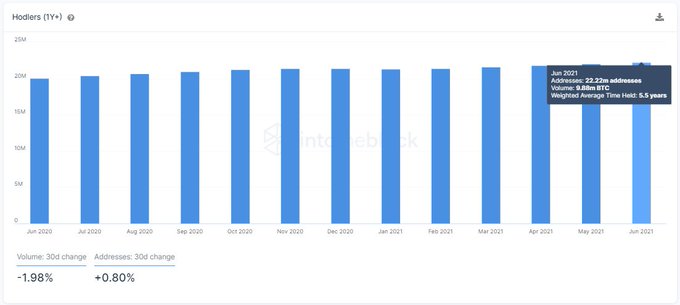 Market analyst Michael van de Poppe echoed these sentiments. He explained:
"Long-term holders of Bitcoin are accumulating again, heavily. Short-term holders of Bitcoin are selling again, heavily. It always goes like that."
As the battle between long-term and short-term Bitcoin holders continues, it remains to be seen how the leading cryptocurrency plays out going forward.
Image source: Shutterstock