Three Major Central Banks Play a Pivotal Role in Bitcoin Adoption
Bitcoin (BTC) arouse the attention of crypto communities followed by lively discussions after the leading cryptocurrency recently breached the psychological price of $40K. Low volatility had engulfed the BTC market because of its price that had consolidated between the $30-$40K range for months.
Market analyst Holger Zschaepitz believes that the three major central banks, namely the Federal Reserve (Fed), the Bank of Japan (BoJ), and the European Central Bank (ECB), have been instrumental in Bitcoin adoption. He explained:
"The biggest helpers for cryptocurrency adoption are central banks. Bitcoin rises almost in tandem with the combined balance sheet of the Big3. The combined balance sheet of Fed, BoJ, and ECB has risen to almost $25tn."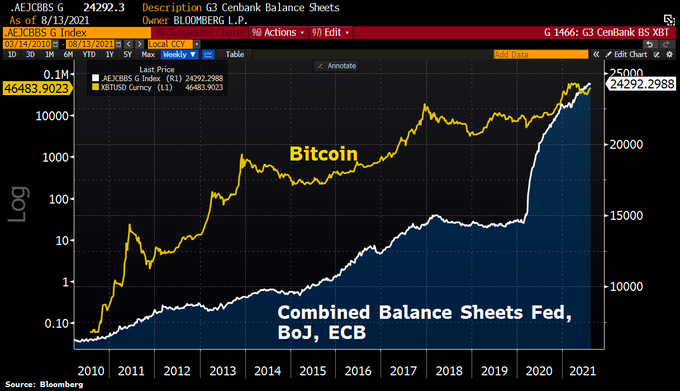 Bitcoin has been on an upward trajectory after nosediving to lows of $30K, prompted by factors like Chinese authorities' intensified crypto mining crackdown.
For instance, 16.4% of its total supply went back to profitability as daily addresses closer to the 1 million marks.
Bitcoin's exchange inflow and outflow stays dormant
According to on-chain metrics provider Santiment:
"Bitcoiners have [a] reason to cheer with prices ending the week surging past $47.8K for the first time since May 16th. A sign that BTC will approach ATH levels again, watch that exchange inflows stay dormant. Right now, things continue to look healthy."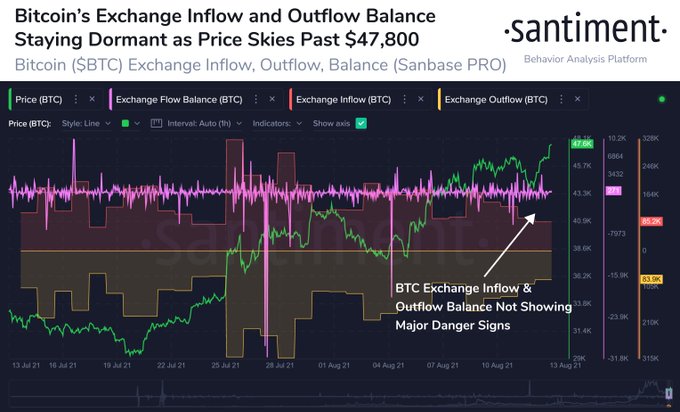 Therefore, Santiment believes that this dormancy in the crypto exchange inflow and outflow balance is a bullish sign for the Bitcoin market. It could prompt more upward momentum close to the all-time high (ATH) price of $64.8K recorded in mid-April.
The number of non-zero BTC addresses hit a monthly high
Crypto analytic firm Glassnode revealed that the number of non-zero Bitcoin addresses reached a 1-month high of 38,126,040.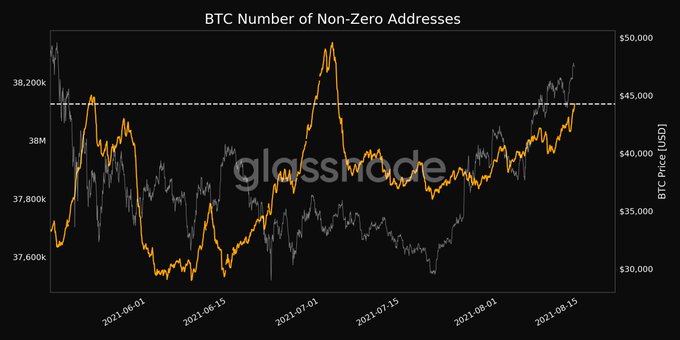 Therefore, it shows that more participants are joining the BTC network. Meanwhile, the Bitcoin-realized correlation recently slumped and turned negative.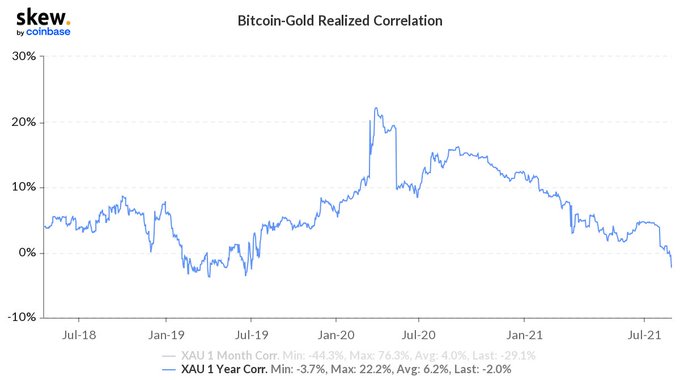 The two assets have been involved in a tussle of wooing investors as the maiden safe-haven asset.
Image source: Shutterstock