Small Bitcoin Holders are Stacking amid Visa's Crypto-Linked Card Payments Hitting $2.5B
Given that holding is a favored strategy in the crypto space, accumulation by small Bitcoin (BTC) holders continues to gain steam.
Lex Moskovski, the CIO of Moskovski Capital, confirmed:
"Bitcoin small holders (1-10 BTC wallets) have been stacking since the 2021 summer crash. What is interesting, they are still stacking now, completely unaffected by the current dip. Nice divergence."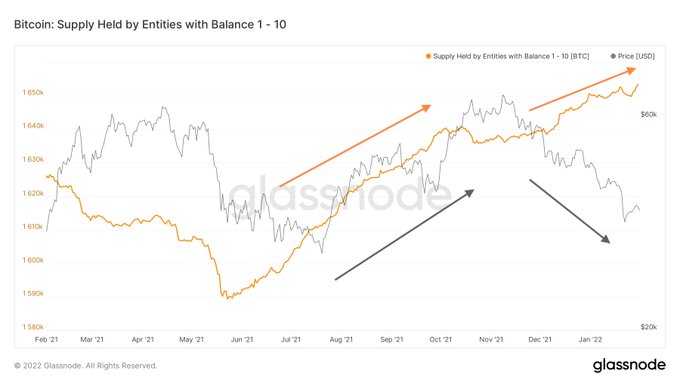 Source: Glassnode 
A similar trend is being witnessed because Bitcoin whale addresses have accumulated 60,000 BTCs in the last two months despite the leading cryptocurrency not finding its right footing since the start of the year.
Nevertheless, bullish signs keep on blinking, given that Bitcoin's daily relative strength index (RSI) is on the verge of breaking out of a downward trend. On-chain analyst Matthew Hyland explained:
"Bitcoin daily RSI is currently breaking out of the multi-month downward sloping resistance. The two previous breakouts during the past year have led to massive bullish moves."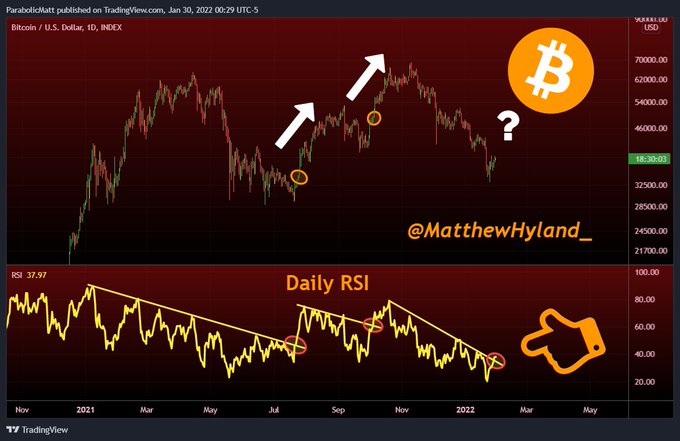 Source: TradingView
Lark Davis echoed similar sentiments. The crypto analyst noted:
"Bitcoin is trying to break out of its downtrend on the RSI. The last time this happened, the price rallied by 130%."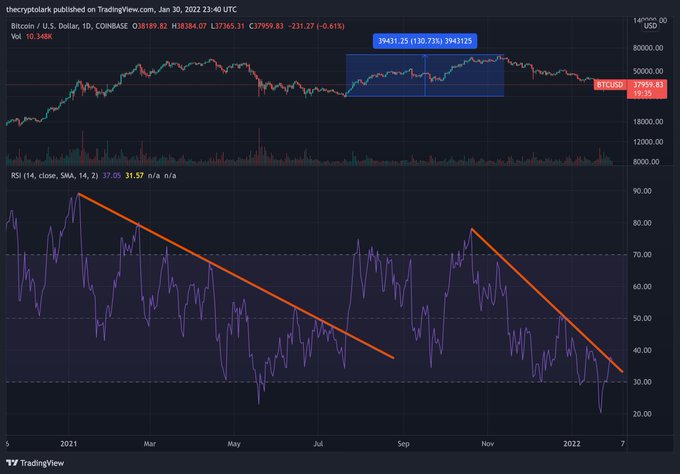 Source: TradingView
Meanwhile, Visa announced that payments associated with its crypto-linked cards skyrocketed to $2.5 billion during its fiscal first quarter of 2022. This represents 70% of Visa's crypto volume for the entire 2021 fiscal year.
Vasant Prabhu, the company's CFO, welcomed this move and stated:
"Looking at the broad categories of spend, we don't see the volume concentrated in a specific merchant vertical with these programs. People are using their crypto-linked cards to spend in a variety of ways — retail goods and services, restaurants, travel. They're increasingly being treated as a general-purpose account."
Visa has been in the front line in aiding crypto adoption.
For instance, as part of efforts to expand the knowledge base of its clients and partners in their cryptocurrency journey, the payment giant introduced a global crypto advisory practice as part of the consulting & analytics department late last year.
Image source: Shutterstock