Retail Investment Slips as New Bitcoin Addresses Drop
Retail investment in the Bitcoin (BTC) market seems to have dried up based on the drop in new addresses.
Market insight provider On-Chain College explained:
"Bitcoin new addresses have been lower than normal for a cycle top. We know this; retail isn't here. But I couldn't help but notice that this trend from 2017 leading up to the parabolic top looks eerily similar to the current new address trend."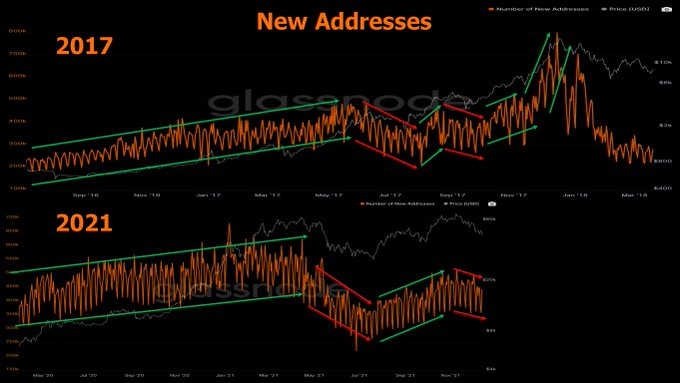 On the other hand, a huge bullish divergence is being witnessed because fewer users are in profits despite Bitcoin sitting at higher prices than the September lows of $30,000. Crypto analyst Matthew Hyland stated:
"Bitcoin percent supply in profit is seeing a huge bullish divergence. Less percentage of people are in profits compared to the September low, yet we are sitting at higher prices. The last time we saw a bullish divergence was during the May-July correction, and a huge move followed."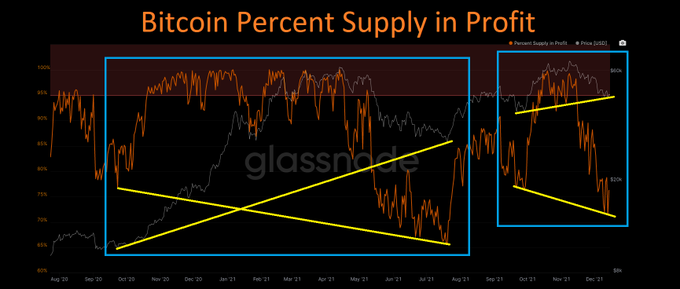 A bullish divergence happens when the price drops to a new low, but this does not occur with the oscillation. Therefore, showing that bears are loosing power and bulls are getting ready to dominate the market again.
The leading cryptocurrency has been ranging between the $47K and $50K level since it gained momentum after slipping to lows of $42,000. BTC was hovering around $48,025 during intraday trading, according to CoinMarketCap.
Meanwhile, BTC funding rates have been moving from neutral to slightly positive. Data analytic firm IntoTheBlock stipulated:
"Huge spikes in Funding rates have historically pointed to over-extended rallies in BTC. With Bitcoin funding rates now being neutral to slightly positive, it suggests that a large portion of leverage traders were forced to close their positions, clearing out the market."
For a bull run to be reignited, on-chain analyst Will Clemente recently noted that Bitcoin ought to reclaim the $53,000 level.
Image source: Shutterstock