Bitcoin Whales not Throwing in the Towel, Accumulating 60K BTCs in Last 2 Months
Bitcoin might not have found its right footing since the start of the year, but this has not discouraged whale addresses from accumulating more coins.
Market insight provider Santiment confirmed:
"Bitcoin whale addresses with 100+ BTC continue their long-term pattern of accumulation during this volatility in the 34K to 38K range. In the past 5 years, 1.7M BTC has been added to these large addresses, including 60K more in the past 2 months."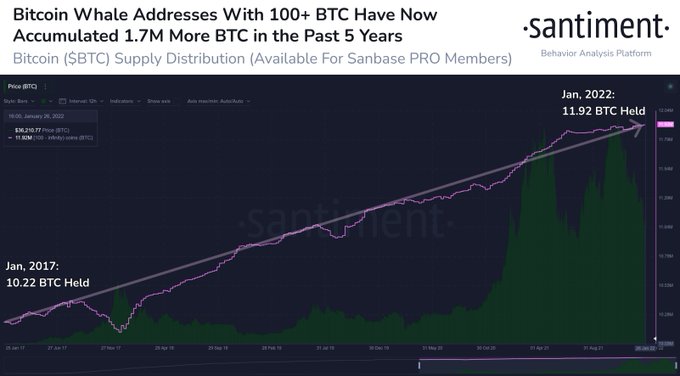 Source: Santiment
Bitcoin ushered the new year below the psychological price of $50,000 as retail investment dried up.
At the time, Raoul Pal, the Real Vision CEO, noted that Bitcoin was on a go-slow because of profit-taking tendencies by institutions. Therefore, they were liquidating their BTC investments to lock in profits, as reported by Blockchain.News.
Therefore, Bitcoin whales have been buying more coins even though the price has not been steady based on factors like anticipated interest rate increase by the U.S. Federal Reserve (Fed).
On the other hand, institutional-size transfer volumes are dominating the BTC market. Crypto analytic firm Glassnode explained:
"Bitcoin transfer volumes continue to be dominated by institutional size flows, with more than 65% of all transactions being larger than $1M in value. The uptrend in institutional dominance in onchain volumes started around Oct 2020 when prices were around $10K to $11K."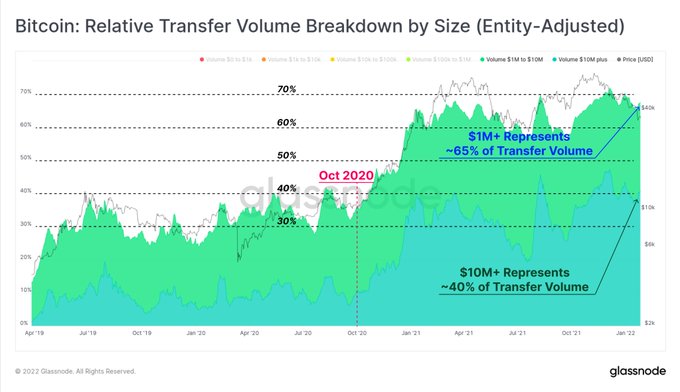 Source: Glassnode
Meanwhile, more learning institutions continue adopting crypto-friendly policies. For instance, San Diego State University, a public research university in San Diego, California, recently disclosed that it would accept Bitcoin donations and hold them depending on market factors.
David Fuhriman, the chief financial officer of the school's Campanile Foundation, recognised:
"If the value of Bitcoin goes up, then this endowment could last forever."
Furthermore, the Wharton School, a premier business school at the University of Pennsylvania in the United States, announced its acceptance of cryptocurrency as a payment method for blockchain courses through Coinbase exchange, as reported by Blockchain.News.
Image source: Shutterstock