Bitcoin Stucks in a Broad Congestion Zone, says Market Trader Peter Brandt
Veteran trader Peter Brandt has cautioned aware of "fear of missing out" (FOMO) trading in the current Bitcoin (BTC) market, warning the market has not yet in a bull run based on the congestion taking place.
He explained:
"Bitcoin is not in a bull market that started at Feb low. Rather, BTC is in a broad congestion zone commencing at Feb highs. FOMO trading in congestion zones can be an expensive hobby."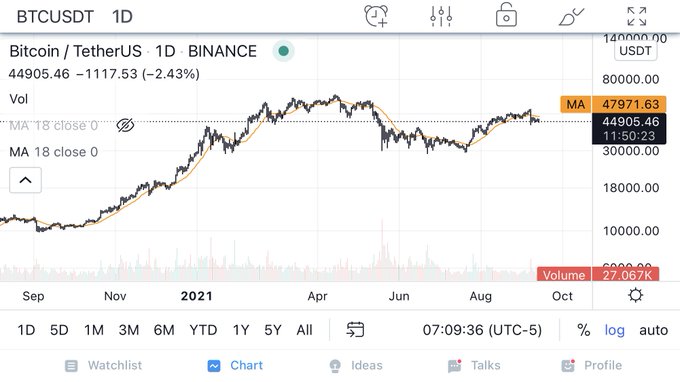 Since the beginning of this year, Bitcoin has experienced both notable highs and lows. For instance, the leading cryptocurrency set a new record price of $64,800 in mid-April.
Nevertheless, a month later, BTC lost more than 50% of its value in a single day to hit lows of $30K. As a result, this price drop became the first time Bitcoin dropped below the 200-day moving average (MA) since March 2020 as the coronavirus (Covid-19) continued wreaking havoc.
The 200-day MA is a key technical indicator used to determine the general market trend. It is a line that shows the average closing price for the last 200 days or roughly 40 weeks of trading.
Bitcoin recently gained momentum and breached the psychological price of $50K, but it experienced a correction that has made the price hover around the $45-$46K area.
BTC was down by 14% in the last seven days to hit $45,305 during intraday trading, according to CoinMarketCap.
Is the congestion being caused by long-term and short-term holders?
According to Glassnode, long-term and short-term Bitcoin holders have been taking contrary moves. The crypto analytic firm noted:
"The relative supply held by LTH and STH tells us an interesting story about Bitcoin: 1. Over 16.8% of the BTC supply was spent in the last 5mths and returned to profit at the recent $52.8k high. 2. Long-term holders now own 79.5% of the BTC supply, equivalent to Oct 2020."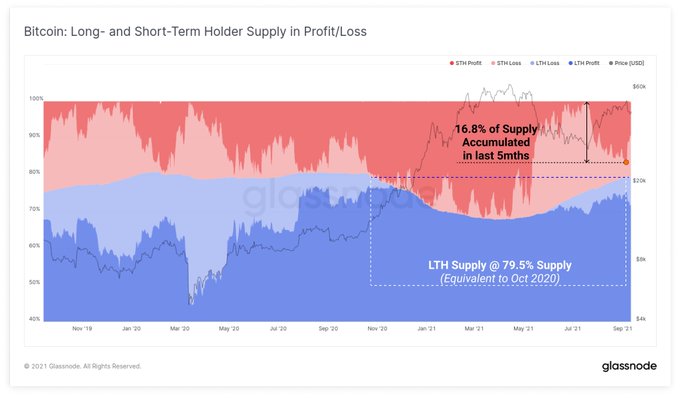 Therefore, long-term holders have been buying whereas their short-term counterparts have been selling. Many coins changed hands during the recent consolidation in the $29-$40K range.
Furthermore, Bitcoin bought between the first and second quarter of this year remained tightly held, given that long-term investors remained unshaken by the 50% drawdown experienced in May.
Image source: Shutterstock