Bitcoin Slips to $35.7K as Daily Active Addresses Hit a 5-Month High
Bitcoin (BTC) entered the weekend in the red after dropping to the $35,700 level based on a high number of daily active addresses, according to market insight provider Santiment.
Santiment noted:
"The Bitcoin network had 1.17M unique active addresses making transactions, which was the highest amount of utility since December 2, 2021."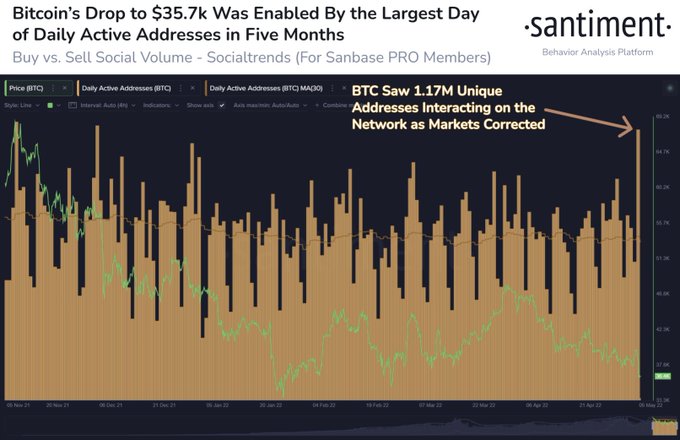 Source: Santiment
Based on these statistics, after the number of daily active addresses hit a 5-month high, selling pressure in the Bitcoin network escalated, leading to a price drop.
Meanwhile, the leading cryptocurrency had regained some momentum during intraday trading to hit $36,064, according to CoinMarketCap.
Bitcoin's realized capitalization reached a monthly low
According to crypto analytic firm Glassnode:
"Bitcoin realized cap just reached a 1-month low of $464,403,390,073.42."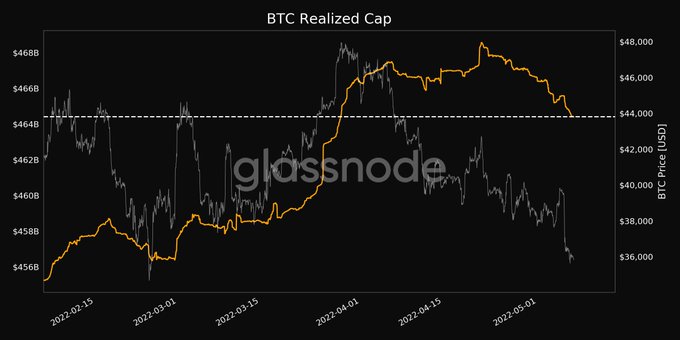 Source: Glassnode
Realized market capitalization is calculated by valuing each supply unit at the exact price it last moved on-chain or at the last time it was transacted.
As a result, it does not calculate coins that remain unmoved because cryptocurrencies can be lost, unreachable, or unclaimed. This contrasts with the standard market capitalization that values every supply unit evenly at the current market price.
While the Federal Reserve's interest rate increase by 0.5% on May 4 initially resulted in a bullish reaction in the market, it now seems to be triggering selling pressure in the Bitcoin market based on the present price drop. Tammy Da Costa, a market analyst at DailyFx, opined:
"Over the past week, fundamentals have included interest rate expectations and nobody can ignore the ongoing war which continues to place pressure on supply constraints, particularly for commodities."
Time will tell how the tightened monetary policy will continue playing out in the crypto market because Bitcoin needs to reclaim $37.5K to paint a bullish picture. This price level previously acted as a significant support level.
Image source: Shutterstock