Bitcoin Needs to Flip $38K-$40K Area, Gaining Sustainable Bullish Momentum
The plan of raising the interest rate proposed by the U.S. Federal Reserve (Fed) has dented Bitcoin's upward move because the leading cryptocurrency ranges between the $33K and $38K zone.
Rekt Capital believes that the $38,000 to $40,000 zone should be flipped to support a more sustainable bullish momentum because it is a high resistance area. The crypto analyst explained:
"BTC reaches the red Range High resistance and rejects there. For BTC to move beyond $40000, it needs to flip the red Range High into support (just like in the green circles). Until then, BTC will simply remain inside the ~$28000-$38000 range."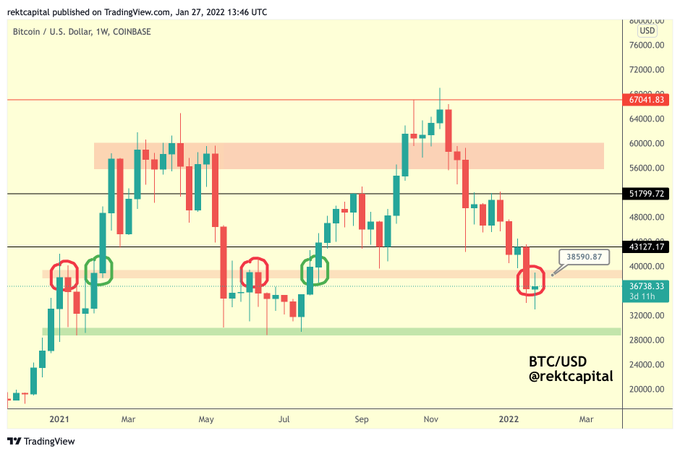 Source: TradingView
Bitcoin has been trading below its all-time high (ATH) price of $69,000 attained in November 2021. This has elicited the notion that the top cryptocurrency may be experiencing short-term pain points for long-term gain because hodlers remain unfazed about the current drawdown.
The U.S. Dollar is gaining strength
The current scenario also paints a grim picture because the U.S. Dollar Index (DXY) has been gaining strength. This is not a friendly situation for risk assets like Bitcoin because market analysis shows correlation inversely. On-chain analyst Dylan LeClair noted:
"DXY is pumping hard. A strong relative dollar is quite bearish for risk assets. Something to keep an eye on."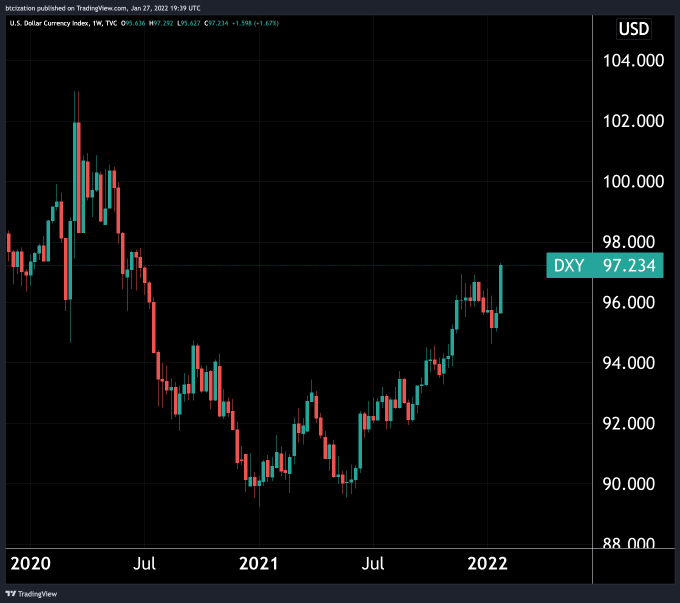 Source: TradingView
Bloomberg's Lisa Abramowicz echoed these sentiments and stated:
"The dollar is the strongest vs. the euro since May 2020."
High investor pessimism is bullish
Nevertheless, it seems it's boiling down to a matter of when not if Bitcoin will be back to winning ways because investors' are increasingly pessimistic about the crypto market, and this historically presents high buying pressure, which drives the price upwards.
Market analyst under the pseudonym Macro Charts confirmed:
"Investor sentiment is at historic pessimism. Worse than March 2020 and December 2018. Even in 2008 – similar spikes led to violent Bear Market rallies. And lastly – when investors finally got this negative, the 2000-2002 Tech Crash was over."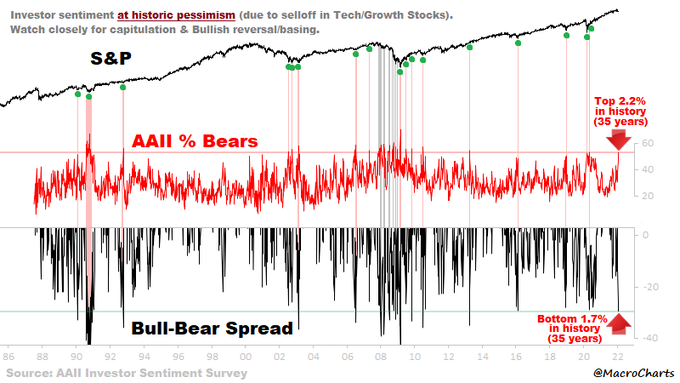 Furthermore, the negative funding rates experienced in the BTC market are often followed by substantial short squeezes, which is a bullish sign.
Image source: Shutterstock