Bitcoin Needs to Break $51K Level for an Continuous Upsurge
Bitcoin (BTC) roared above $50K on August 23 for the first time since May as institutional investors give the leading cryptocurrency a keen eye. Nevertheless, BTC has retracted to $49,738 during intraday trading, according to CoinMarketCap.
Market analyst Michael van de Poppe believes Bitcoin should break the $51,000 level if an upward momentum continues, failure to which a pullback to the $44-$48K level will be witnessed.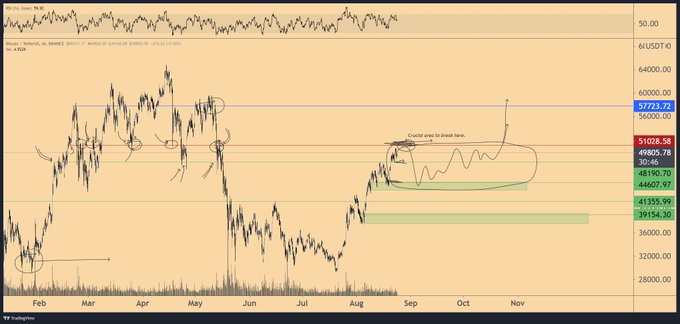 He added that at a fast pace, BTC ought to accelerate to the $56K level.
With the latest surge pushing Bitcoin above $50,000, on-chain dynamics have changed as more users accumulate. On-chain metrics provider Econometrics explained:
"Good news. Compared to February, when Bitcoin crossed $50K for the first time, the on-chain dynamic has changed. In February, less and less people were accumulating. Now, more and more people are accumulating."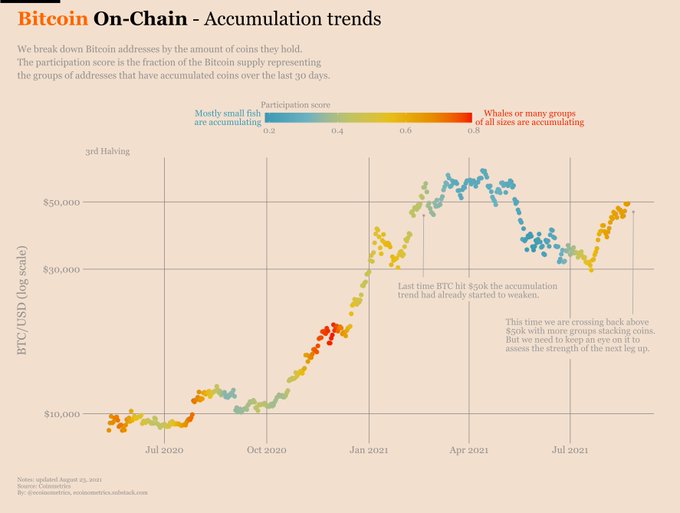 Institutional investor sentiment rises
Institutions have been injecting capital investments in the Bitcoin market, which has been instrumental in increasing price. Recently, addresses holding more than 1,000 BTC reached a 6-month high, which illustrated strong conviction.
In May, Bitcoin experienced bearish momentum as the top cryptocurrency nosedived to lows of $28K from an all-time high (ATH) price of $64.8K recorded in mid-April.
Institutional investment played a pivotal role in the realization of this record-breaking price.
Meanwhile, Bitcoin experienced the largest exchange inflows and outflows on August 23 since BlackThursday in March last year. Crypto analytic firm Santiment stated:
"Monday had the largest amount of Bitcoin cycling on & off exchanges since BlackThursday, 17 months ago. Approximately 843.2K BTC was moved on to exchanges, and 825.0K BTC was moved off."
Black Thursday is a day remembered because the financial market suffered the greatest single-day fall since the 1987 stock market crash as the coronavirus (Covid-19) pandemic continued to wreak havoc globally. For instance, BTC shed off 50% of its value and plummeted to lows of $3,800.
Image source: Shutterstock