Bitcoin Mean Transaction Volume Soars 370% from the 2019/20 Market Cycle
As the broader cryptocurrency ecosystem recovers from the massive selloffs experienced in mid-May, on-chain activities have revealed that transactions volumes are on the rise, a trend that showcases the inflow of institutional investor's funds.
Per Glassnode's on-chain data, there has been a decrease in retail transaction volumes, with a corresponding increase in institutional cash inflows.
"The average USD transaction size in the 2019-20 bear market was typically between $6K to $8K. This period was largely dominated by retail and early investment fund participants," Glassnode revealed in its weekly insights.
"The 2020-21 bull market saw average transaction sizes increase significantly into a peak of $58.6K during the May sell-off. This has largely cooled off from July onwards, with the current average transaction size between $30K and $36K."
The average transaction increase at this present time, despite the market dip, is up by 370% when compared with the same time period next year. As a backup insight into the transaction activities outlined, the size of transactions is also moving from small funds to big capital.
According to Glassnode's data, transactions with a capital size of $100,000 or less, which dominated about 40% of all transactions back in 2017, are now down to 10% to 20% today. As inversely proportional, the high volume capital transactions with "institutional and high-net-worth size capital of $100k+ have expanded significantly over the last 12 months."
While transactions within the $1 million to $10 million now represent about 20% to 30% of all transactions, "the $10M+ cohort, however, have grown considerably, from only 10% in October 2020, to over 30% dominance today."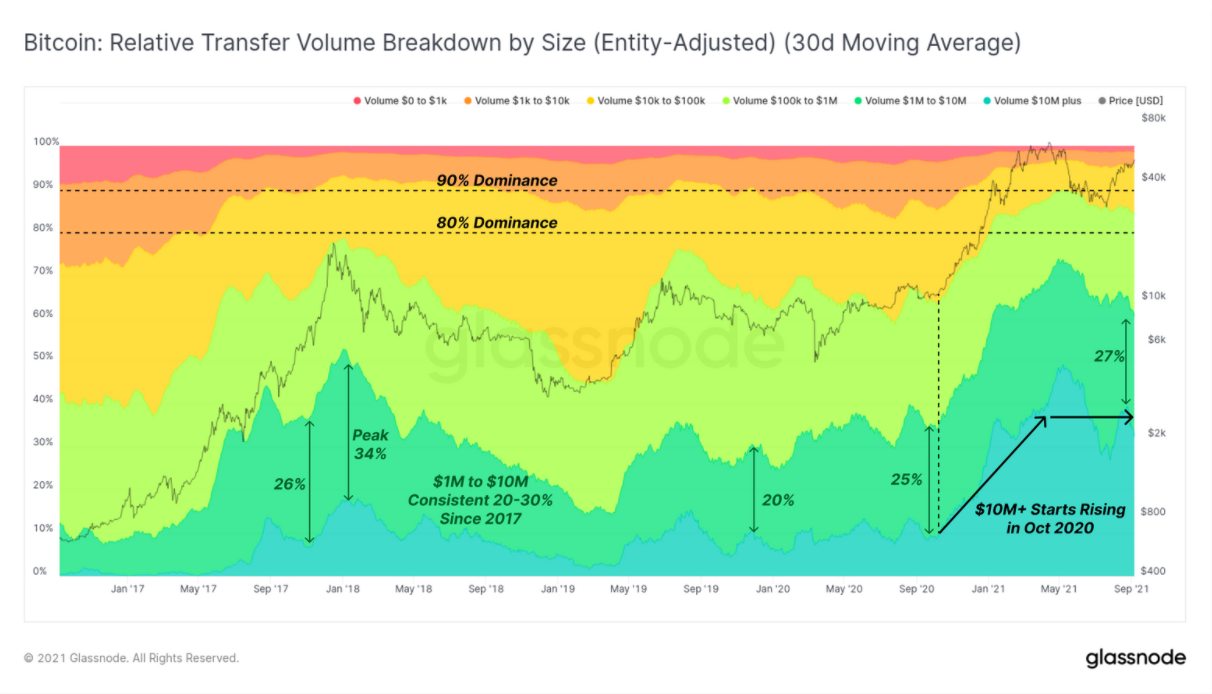 The sustained activities of major Wall Street firms like MicroStrategy Incorporated have continued to tilt the odds in favour of market whales. The Michael Saylor-led business intelligence and software firm made its latest Bitcoin acquisition of 3907 units back in August, with several smaller buyups preceding that.
Image source: Shutterstock