Bitcoin Lightning Network Goes Parabolic after Hitting ATH Capacity of 2,738 BTC
The Bitcoin (BTC) lightning network has been experiencing an uptick, given that its capacity recently reached a record high.
On-chain metrics provider Glassnode explained:
"The Bitcoin Lightning Network is currently at an all-time-high (ATH) capacity of 2,738 BTC, equivalent to $116.3M in value."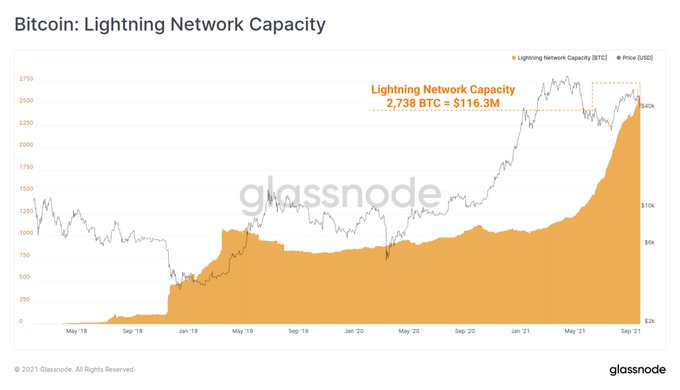 Market analyst Will Clemente echoed these sentiments. He said:
"The capacity of the Lightning Network has now reached 2,738 BTC. In just the last week, we've seen the two largest daily upticks in LN capacity ever. This growth is crucial for BTC to eventually make the transition from primarily being a store of value to a medium of exchange."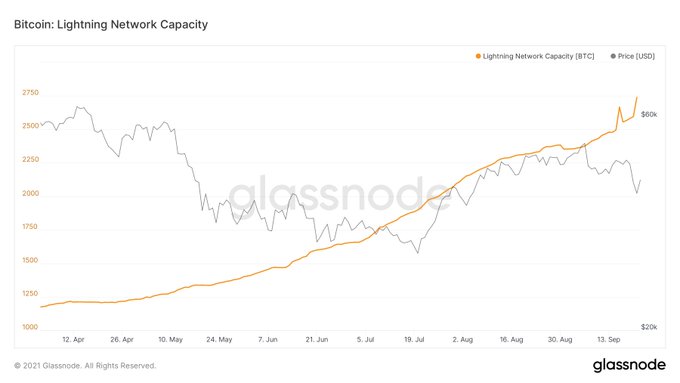 The Lightning Network is a second layer incorporated into the Bitcoin blockchain to undertake off-chain transactions. As a result, micropayment channels are utilized to scale the blockchain's capacity to carry out transactions more efficiently.
Therefore, transactions undertaken on lightning networks are more readily confirmed, cheaper, and faster compared to those processed on-chain or bitcoin mainnet (layer one).
Meanwhile, Bitcoin addresses by holding more than 0.1 coins reached a 4-month high of 3,243. Holding is one of the strategies used in the BTC market because investors store their coins for future purposes rather than speculation.
Bitcoin whales are some of the notable holders, given that they recently added 31,843 BTC to their investment.
Furthermore, Bitcoin supply has been steadily maturing to old hands. Nearly 2 million BTC have transitioned from short-term to long-term holders from the time an ATH price of $64.8K was attained in mid-April.
Nevertheless, BTC's perpetual swap open interest recently dropped below $11 billion for the first time since August. Open interest usually increases with a price surge, thus showing the two are strongly correlated.
Image source: Shutterstock