Bitcoin Exchange Outflow Reaches its Lowest Mark in Over 3 Years
Cryptocurrency exchanges have continued to see outflows in Bitcoin (BTC) balances, a trend that shows investors are either selling off or embracing alternative ways of safeguarding their assets.
According to data from Glassnode, a steep decline occurred in the overall balance on trading platforms over the past week, a new trend that is becoming visible following a long stretch run of buyups from institutional investors.
"Overall exchange balances have continued to decline this week, reaching a new multi-year low of 13.0% of circulating supply this week," Glassnode revealed in its latest weekly report, "This returns exchange balances to levels last seen in Feb 2018. Keep in mind that prices were trading between $6K and $10K at that time. The accumulation of coins after March 2020, with prices trading up from $3.8K to over $64K in April, reflects the significant growth of capital inflows necessary to withdraw this relative coin volume."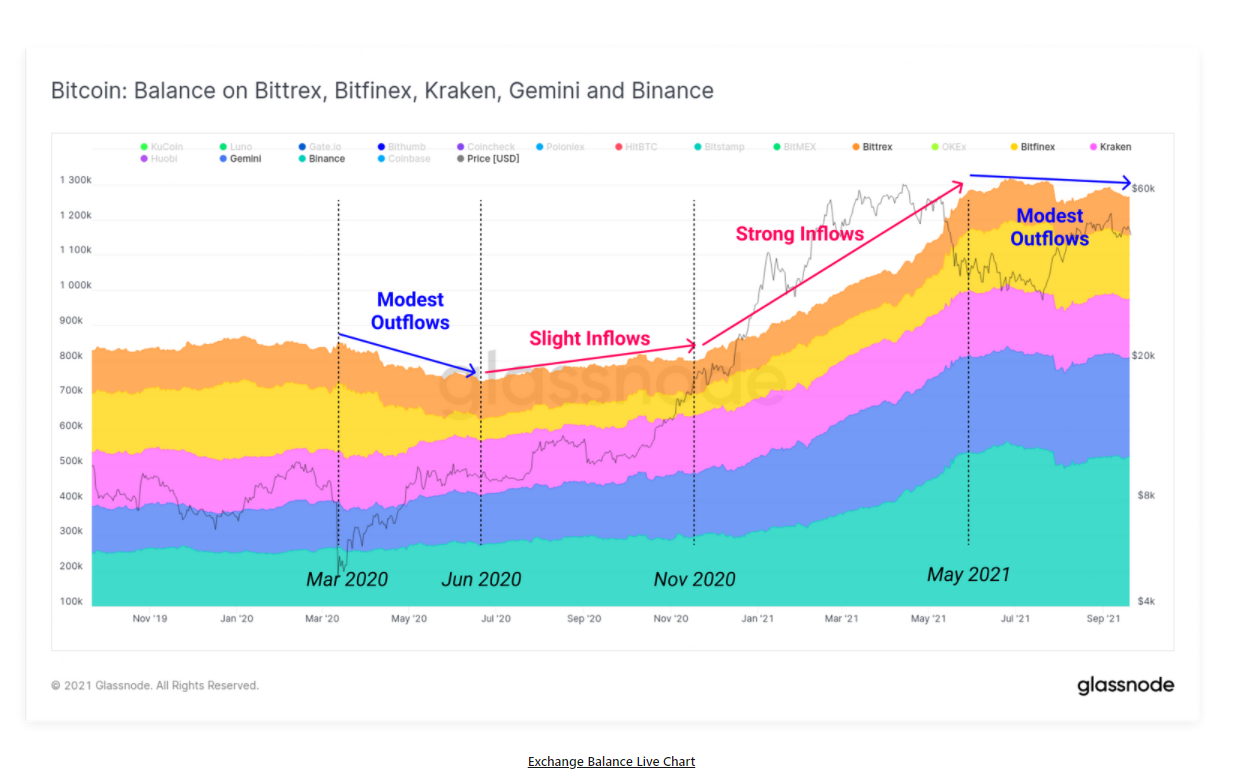 As a backup for the observed Bitcoin decline, the exchange NetFlow has also slipped to a low of -92BTC/month. This figure shows a massive imbalance between inflows which are now currently overshadowed by withdrawals. The Glassnode report also profiled the rate of outflows from the top trading platforms, and it revealed that Binance and Gemini have experienced modest Bitcoin outflows since the May correction.
The primary source of the outflow is recorded more in exchanges like Bitstamp, OKEx, Huobi, and Coinbase. These trading platforms have been recording outflows "since March 2020 and have actually accelerated in recent weeks."
Investors, either institutional or retail buyers, are at liberty to move their Bitcoin assets to any wallet of their choice. While the sell-off, according to Glassnode, reflects mild profit-taking, it also signifies that investors are transferring the funds to external wallets they control. At the time of writing, Bitcoin is changing hands at $42,735.72, down 9.37% in the past 24 hours.
Image source: Shutterstock