Bitcoin Circulation and Active Addresses Holding Steadily Despite Retracement
After waiting for 189 days, Bitcoin breached the previous record high price of $64,800 set in mid-April. The leading cryptocurrency was able to scale the heights and hit a new all-time high (ATH) of $66,900 on October 20.
Nevertheless, BTC has been facing a significant retracement falling to the $60K and $61K levels. Bitcoin's active addresses and circulation have not slowed down despite this trend because they have remained relatively strong, as acknowledged by market insight provider Santiment.
The correction witnessed in the BTC market might have been triggered by some hodlers selling off their investments. Data analytic firm IntoTheBlock explained:
"Bitcoin hodlers who have held for over 1 year are still not eager to sell even after the new highs. Volume held by these addresses did decline slightly, suggesting some large players may have sold partially, though they remain holding most."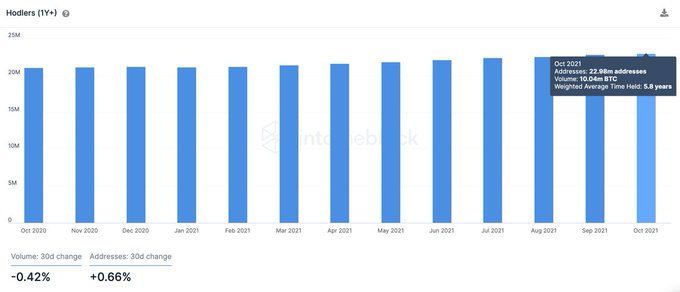 Retail interest is still low
According to an on-chain analyst under the pseudonym TXMC, Bitcoin recently broke the record despite low retail interest. The analyst noted:
"Network activity is back to mid May levels, but it looks relatively quiet despite a 28% growth in baseline entities since 2018. Active Entities (individuals on-chain) shown by blue and transactions (entity adjusted) illustrated by orange. We're at all-time highs and retail appears to still be at home clueless."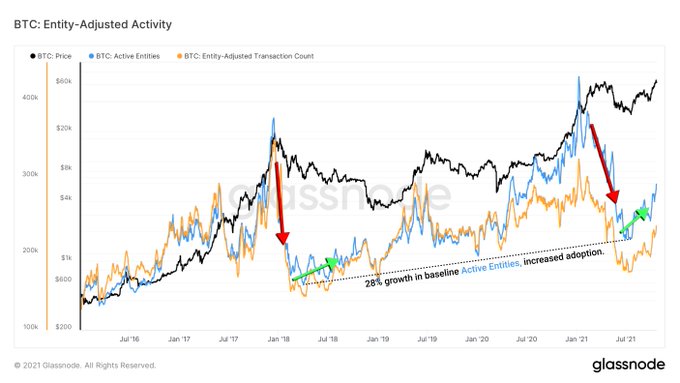 IntoTheBlock echoed these sentiments and suggested that the current all-time high price was attained with less retail interest and lower speculation. Furthermore, transaction volume was seven times the one recorded in April.
On the other hand, Bitcoin balances on exchanges were down-trending because they reached a 3-year low. This signified a holding culture, given that Bitcoin was being transferred from crypto exchanges and kept in cold storage and digital wallets.
Image source: Shutterstock