Bitcoin Addresses Holding for More Than a Year Hit an ATH with 10.15 Million BTC
Even though Bitcoin (BTC) slipped below the psychological price of $60,000 for the first time in more than two weeks, long-term holders remain unfazed as their accumulation continues to break the record.
Daniel Ferraro, a researcher at IntoTheBlock, explained:
"Despite BTC touching the mid's $58K, the long-term investment vision amongst Bitcoin holders remains unfazed. The number of addresses holding BTC >1yr is currently at an ATH, increasing consistently over the past 12 months and accumulating at the dips. They hold 10.15 million BTC."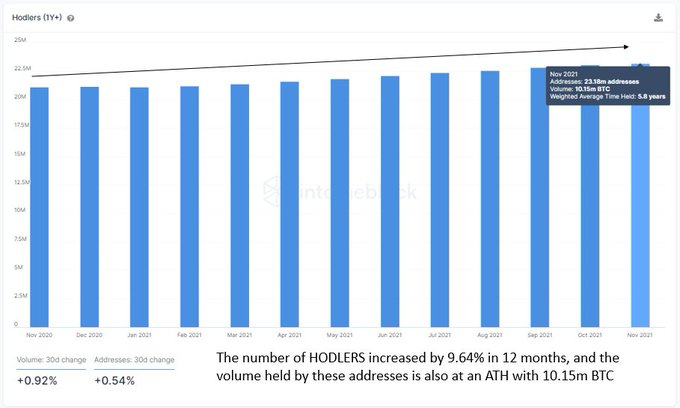 Long-term Bitcoin holders have emerged as one of the biggest beneficiaries with a lower cost basis of $17,750. The cost basis entails the purchase price or original value of an asset.
Therefore, long-term holders have surfaced as significant players in the crypto space.
Meanwhile, BTC funding and open interest (OI) have experienced a substantial drop, which shows less speculation in the market.
Data analytic firm IntoTheBlock noted:
"The Perpetual Swaps Funding Rates are considerably lower than the ones experienced during the first 4 months of 2021. This is a sign of less speculation and deleveraged markets, leading to a stronger range consolidation for BTC."
Bitcoin miners revenue hit $1.818 billion in October
According to on-chain analyst Dylan LeClair:
"Bitcoin miners mined $1.818 billion worth of BTC over the last month. The revenue total over the last month is larger than any 30-day period in the history of the network."
This shows that BTC miners have gotten back on their feet after being given a heavy blow following China's intensified crypto mining crackdown in May.
During the same time, Bitcoin's price went below the 200-day moving average (MA) for the first time since March last year after plummeting to lows of $30K. The 200-day MA shows an average of roughly 40 weeks of trading and helps in determining the general market trend.
As Bitcoin mining remains unwelcome on Chinese soil, Bitcoin miners have found the right footing in other countries like the United States, Kazakhstan, and Iraq.
Image source: Shutterstock