2.3 Million Bitcoins Have not Moved in More Than 10 Years
More than 2.3 million Bitcoins might have been lost based on their immobility for at least ten years.
Lex Moskovski, the CIO of Moskovski Capital, explained:
"As people lose their Bitcoins, your Bitcoins automatically become more valuable. 2,336,996 BTC has never moved in 10+ years. Effectively lost."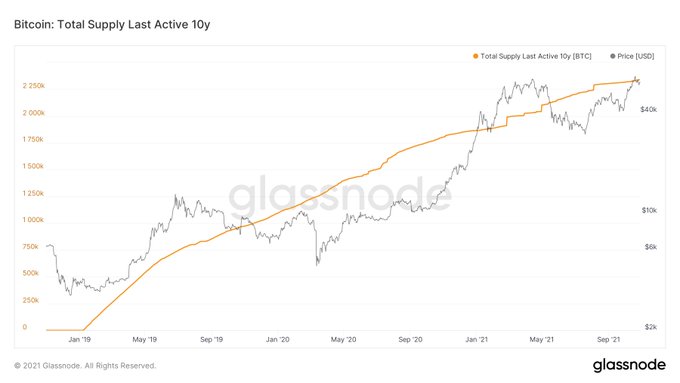 He acknowledged that this is a blessing in disguise because the lost coins create a supply deficit, making the circulating Bitcoins more valuable.
Meanwhile, MicroStrategy's BTC accumulation continues to go a notch higher because the leading business intelligence firm increased its Bitcoin holdings by 8,957, worth $550 million in the third quarter of 2021.
By September, its portfolio stood at 114,042 BTC. MicroStrategy has been amongst the top corporate giants to have entered the Bitcoin space.
Goldman Sachs provides clients with crypto research
Investment giant Goldman Sachs seeks to maximize its customer satisfaction rates by providing crypto data to hedge fund clients. The bank recently sent an overview of decentralized finance (DeFi) protocols on Ethereum.
This move intends to enable hedge funds and institutional investors in the United States to expand their knowledge base in Bitcoin, DeFi, and crypto.
Bitcoin has plenty of room to move
According to on-chain insight platform Ecoinometrics:
"With the current aggregate risk score at 46%, there is a lot of room for the price to run higher. This score measures whether or not the market is overheated. Blue is low risk, and red is high risk."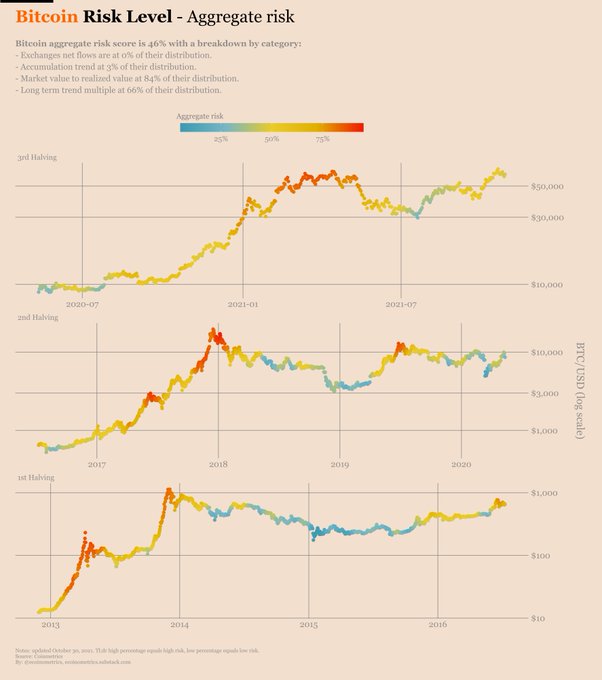 Meanwhile, Economist Alex Kruger recently noted that the Bitcoin market is less leveraged than analysts think because the CME prompted the surge in open interest (OI) witnessed in the last month.
Furthermore, on-chain analyst Will Clemente suggested that the shakeouts in the BTC market should not dampen the crypto community's spirits because Bitcoin whales have been on a spending spree in the past two weeks.
Image source: Shutterstock