Tron's TRX Jumps 34% This Week And 10% In 24 Hours – Bull Run Expected?
After a slow 2018 in which the bears didn't quite let the crypto market have its ways, 2019 seems to be a better year.
More analysts have said that what happened in 2018 was nothing more than a much-needed correction after the high prices seen in 2017.
2018 was a year that separated the winner coins from the useless ones, and 2019 is expected to be the year of mainstream adoption.
BitTorrent launched its native coin BTT
Tron began 2019 in full force as its BitTorrent has been making some pretty important moves in the cryptosphere.
BitTorrent launched its native token BitTorrent (BTT) based on the Tron protocol.
The token can be changed between users and the benefits it will bring is faster network and downloads.
This is huge news because it could trigger mainstream adoption. Why? Because the content sharing ecosystem has about 100 million users and their interest in TRX could be triggered shortly.
Justin Sun says the new token, BTT will be used to reward people who share files on the platform:
"Users will earn tokens for uploading, incentivizing them to continue seeding the file longer after the download is complete. Storage and bandwidth will be infused into the torrent ecosystem, causing a rising tide of high availability and longer torrent lifetimes."
Tron's weekly price movements
Last week on Tuesday, TRX was priced at $0.0187 per coin and at the moment the token is priced at $0.027581 on CoinMarketCap.
This rally follows an excellent week for the cryptocurrencies in general. We're saying this because the total market cap has managed to gain more than 10%.
We'll have to see what happens to the token's price just ahead of the Tron conference.
Tron is preparing for the upcoming conference
The Tron Foundation is getting ready to host a developer conference that will last for two days.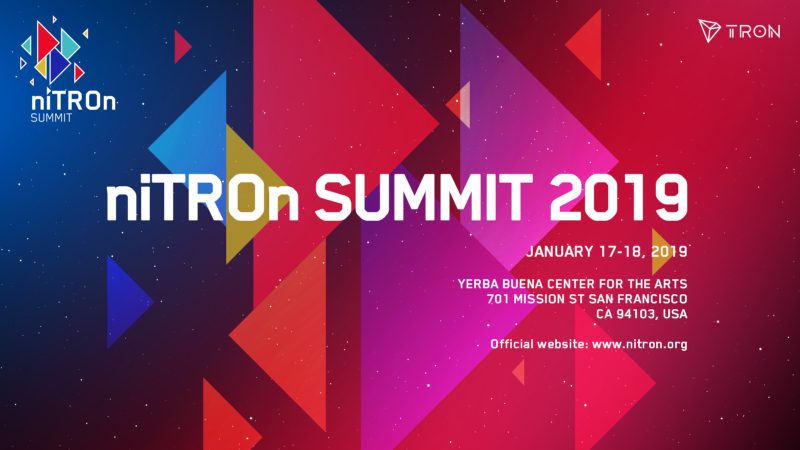 The Tron Developer Conference is scheduled to begin on January 17, and the venue for the event is Yerba Buena Center for the Arts, 701 Mission Street, San Francisco, CA 94103, USA.