Monero Price Prediction – Bears Might Take Over Shortly After The Successful Update
Everyone was expecting to see the success of the Monero update mirrored in the price of XMR, but this hasn't happened so far.
Monero (XMR) privacy coin has been experiencing tight trading in between set resistance and support levels.
Long-term outlook for XMR
The long-term outlook for the token still has to be seen, and its strong community is supporting every one of the coin's moves.
The long-term outlook for Monero shows support from $84.2 – $101 – $105, contrasted sharply by a downtrend from $292 – $106. The resistance levels are set at $115, $137 and $164, with supports at $84 and $99.8.
The Relative Strength Index denotes that the buying and selling pressure has evened out.
The Relative Vigor Index shows a bearish crossover.
The Parabolic SAR indicator is also showing a bearish sign, as it can be seen by the presence of the dots above the candlesticks.
The bears seem to be on their way to the coin as all the indicators are hinting to a bearish outlook for XMR.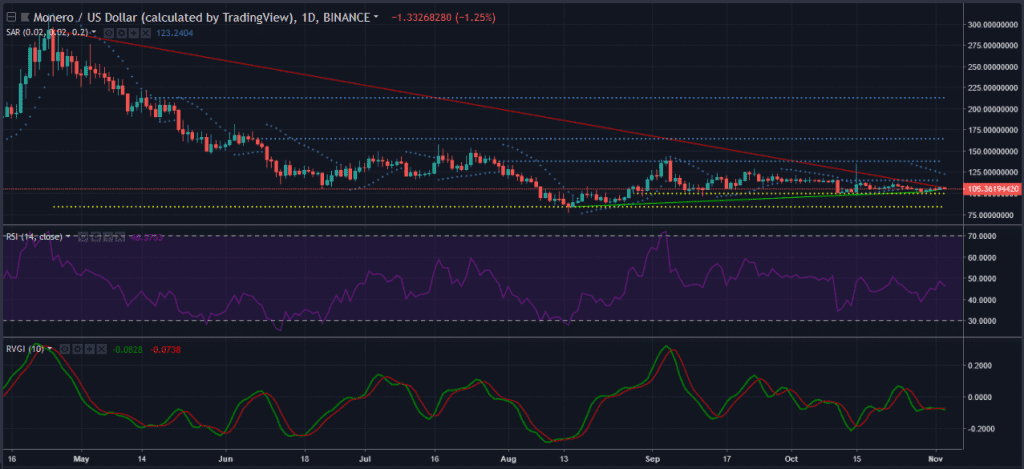 Huobi Global reveals new trading pair XMR/USDT
On November 2, Huobi Global announced users that "XMR/USDT will be available on Huobi Global from 18:00, November 02, 2018 (GMT+8)."
Huobi Global leading digital asset exchange flaunts a robust global presence with its operations established worldwide.
The platform offers a secure and reliable service to users across 130+ countries.
Huobi Global launches XMR/USDT at 18:00 on November 02, 2018 (GMT +8).https://t.co/2fMIUbpJSJ#HuobiGlobal @monero $XMR @Bitfinex @Tether_to $USDT pic.twitter.com/vXcMLsAaWd

— Huobi Global (@HuobiGlobal) November 2, 2018
The latest Monero update results in low transaction fees and more
XMR's price did not precisely mirror the success of its most recent update.
The upgrade was a complete success for Monero, and now leading crypto exchanges in the world are lowering withdrawal fees for the privacy coin.
The Bulletproofs protocol was implemented recently and triggered lower transaction fees on the Monero network.
Binance and Bittrex revealed that they would lower XMR withdrawal fees to 0.0001 XMR.
This is a massive discount for traders who previously had to pay 0.04 XMR ($4.28) in order to withdraw crypto from Binance.