Midas Protocol Works With Kyber Network And IDEX To Create The Most Innovative Universal Wallet For All Crypto Needs
Companies have been trying to develop their own strong ecosystem for years in all industries. This can sometimes be a challenge, and it requires a lot of effort.
The blockchain is no different, and this industry works the same, requiring a lot of work from a company to be able to develop.
The concept behind the Midas ecosystem is all about using more tools and platforms for helping people invest, trade and promote a secure while at the same time wise use of crypto.
Midas Protocol is a universal wallet
Midas Protocol is the core of the whole Midas Ecosystem; it's a universal wallet that has been created for all users starting with novice ones to experts.
The primary goal of the wallet is to become the most innovative one for all the main crypto needs, including safekeeping, trading and portfolio management.
The Midas Wallet supports BTC, ETH, USDT, NEO, TUSD, TVND, TOMO, ZCOIN, MAS, DIVI various ERC-20s, NEP5, TRC-20 tokens, and more.
The wallet is integrated with Kyber Network and IDEX to provide in-app trading from a mobile wallet with over 500 cryptos.
It's also integrated with Vinex Network for trading via API. The wallet also has a built-in dApp browser.
Main features of the Midas Wallet
Running on all major platforms Mobile (both iOS & Android), Desktop & Web (coming soon)
Safely storing crypto
Safely transacting crypto
Safely connecting and spending crypto on all E-commerce platforms that accept digital assets
Cautiously trading with decentralized and centralized exchanges
Monitoring and managing the portfolio (changes, transactions over time)
Making sure the user gets notified when essential crypto news is out or when a coin in the portfolio changes massively
Providing rewards with high-performance ROI portfolio
Subscribing, following and copying trade strategies from essential investors and traders
For enhanced security, the data file that includes the private keys and APIs is encrypted by the user's password.
More than that, for an even more increased security, Midas teamed up with Sentinel Protocol to integrate Midas Wallet to Sentinel Protocol's Interactive Cooperation Framework (ICF) API with Threat Reputation Database (TRDB), which includes Security Intelligence Whitelists and Blacklists detailing confirmed IOC's of threats related to phishing, malware, hacks, and scams.
Joining the world leading wallets and exchanges
The Midas Protocol has joined some of the essential wallets and exchanges in the world and became a member of the Foundation for Interwallet Operability (FIO).
Alongside the Midas Wallet, there's also the crypto exchange Vinex. Network which has been featured on Coingecko.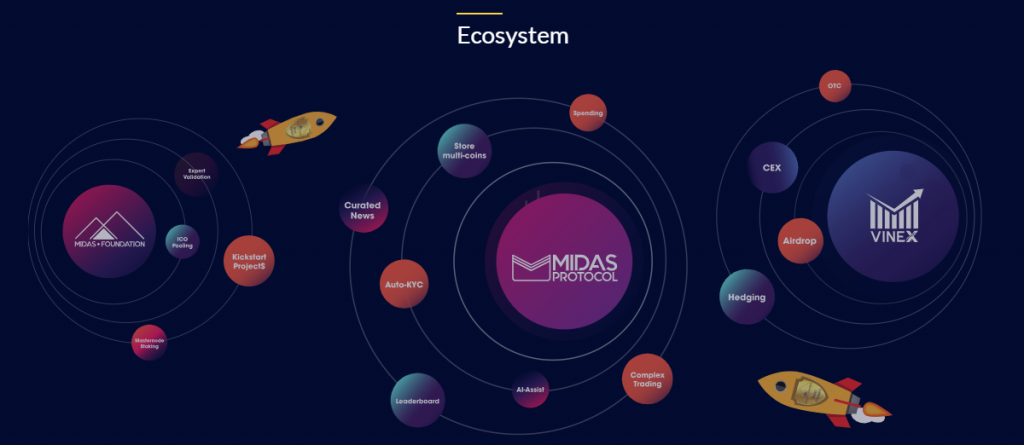 Midas' most important partners who help develop and ecosystem include essential names such as TrueVND stablecoin for the Vietnam market, TomoDice and McashDice dApps, TomoBowl gaming arena, Tomovatar set of avatars, TomoDome hall of fame, Midashimaya – the Amazon on blockchain, NewCater decentralized auction platform, CoinUp24 news, B.E.S.T. center located in Vietnam.
All these projects are making sure to expand the Midas ecosystem in order to provide users the best experience in the cryptosphere.
The post Midas Protocol Works With Kyber Network And IDEX To Create The Most Innovative Universal Wallet For All Crypto Needs appeared first on Oracle Times.