Captain Kirk comes to Vitalik Buterin's defence
William Shatner has been fighting the blockchain fight…
by Manoj Sharma for CNR
In a recent Twitter exchange, William Shatner, the original Captain Kirk of Star Trek of course, defended Vitalik Buterin from some of his detractors.
The original series of Star Trek embraced the concept of new technologies. The cast of the series have become known for the same, too. In the case of Shatner, he's a regular Twitter user, and has become interested in blockchain technology and virtual currencies.
In a recent series of Tweets, William has mounted a spirited defense of Vitalik Buterin, the co-founder of Ethereum.
On November 8th, William published a tweet a thumbs-up emoji to Vitalik Buterin, which started a mini-firestorm of conflicting opinions.
One person responded by alleging that Vitalik was a "literal scammer", to which Shatner responded by saying "then as a coder – go develop your own blockchain technology where you can be 1000% sure of decentralization. Or shove money in a mattress. I hear that's only overseen by the bed bug community".
Here's that exchange…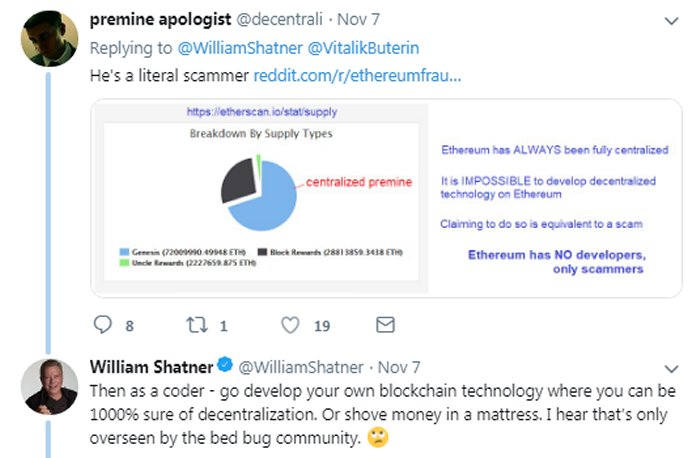 After this tweet, Twitteratti began a series of humorous tweets of Star Trek-themed memes. But Shatner continued his spirited defense, and said that his critic's "viewpoints don't take into account the fact that the code has to be audited by an auditing firm and approved by a consortium or it doesn't get accepted".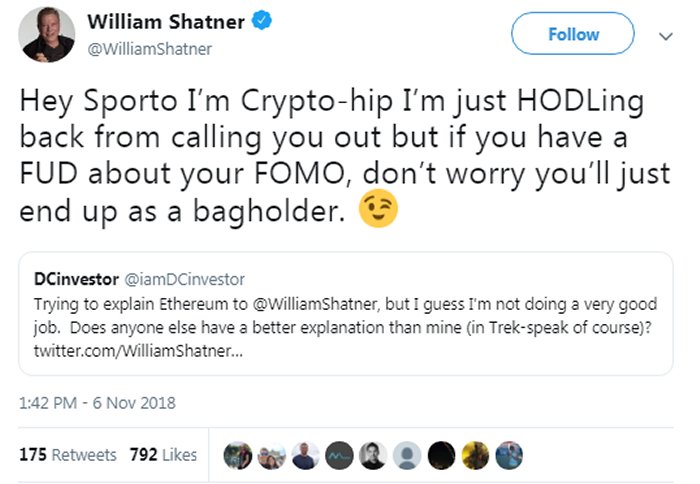 Mind you, the above statement isn't quite right. Ethereum is an open-source project, which leaves no space for a consortium or auditing firm.
Still, having a Star Trek captain on the side of crypto is really rather useful…
Image: BigStock